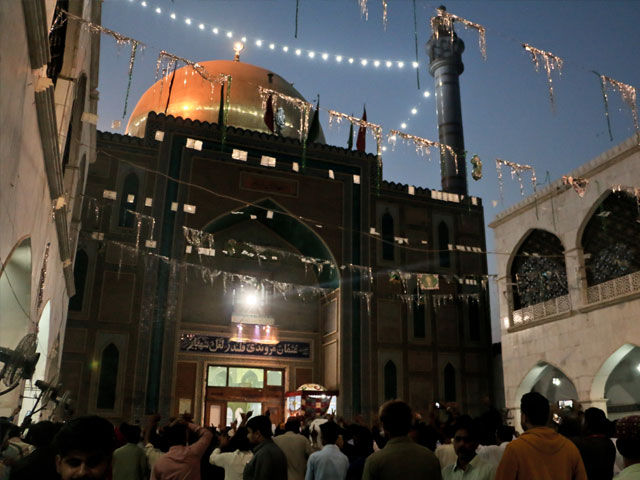 ---
SEHWAN SHARIF: In a world of logic and rationalism, there often occur moments which defy any explanation. It's the moment when a devotee glances at his place of worship, his spiritual guide for the first time. It's the moment when a thing of beauty comes to life in front of your eyes – like watching evolution give shape to the world, or looking into your firstborn's eyes moments after birth. I had a similar experience on Saturday night when I visited the shrine of Lal Shahbaz Qalandar in Sehwan.




It involved neither God nor evolution, but rather something more powerful that abides within us: love and peace. I have lived over two decades with the mind of a cynic, questioning and making sense of the nonsense around me and it has only happened a few times that I stop and just feel things as they are, without any judgment. It happened when I was kayaking in a lake surrounded by mountains in Yeongwol, South Korea. It happened in the mountainous Buddhist temple of Naksan where Buddha's spirit lived in the winter fog and watched over his devotees. And it happened again in the ethereal presence of Qalandar.

Those fuelling anger over Sehwan tragedy accomplices of terrorists: Sindh CM

A courtyard full of devotees who did not care that just over a week ago, a suicide blast had killed 88 people in that very place. I was there, moving to the rhythm of Lal, whose four lamps never extinguish. I was there to light the fifth one.




Watching people go into a trance to the sound of dhamaal was a moving experience. What followed was a peace jam by Sounds of Kolachi and percussionist Abdul Aziz Qazi, marking the first time any band has performed inside the Qalandar shrine.




The heart-touching sound of Gul Muhammad's sarangi combined with Ahsan Bari's guitar, Qazi's cajón, and Ahmed's vocals served as a call, an azaan of sorts. In no time, people gathered around to witness the manifestation of a peaceful gesture in the face of fear that had swallowed the world. In fact, it occurred to me that, apart from the tighter security at the entrance, the public did not even worry about the blast anymore. The power of peace had set into them so heavily that it wasn't going to stop them from visiting the pilgrimage site.




Each musical note and each expression of the people in witness exclaimed, "No blasts or killings can conquer peace and love." The shrine was a canal, where musicians took inspiration from the people and gave them back through music – an ecosystem, a cycle of peace. It's even more interesting that no person objected to it. Music was a whole another prayer, similar to what the regular devotees did at the shrine. To top it, two local musicians joined in with nagaras of their own – like dervishes joining a group of dervishes in the dance of zikr.

In Memory Of Sehwan victims remembered  

The performance, which lasted over 40 minutes, saw people even dancing to the rhythm – in a trance-like state, as on the path to enlightenment.  It reminded me of the Heart Sutra in Mahayana Buddhism, "Gate Gate Paragate Parasamgate Bodhi Swaha (Gone, gone, gone beyond altogether beyond, Awakening, fulfilled!)."




It talks about love and mental peace where nothing, no worldly chatter and noise can touch you. One of the most important sutras in Buddhism, it talks of "Bodhi", which is awakening. If the entire experience of Qalandar's shrine can be summed up in one word, it's awakening.

Have something to add to the story? Share it in the comments below.
COMMENTS
Comments are moderated and generally will be posted if they are on-topic and not abusive.
For more information, please see our Comments FAQ