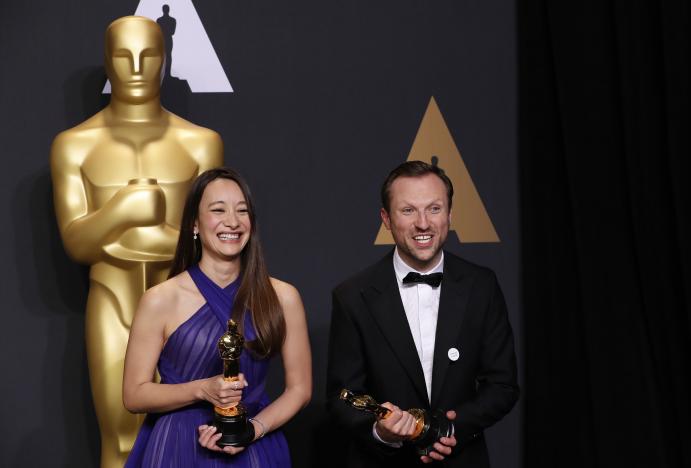 ---
For Raed Saleh, the leader of the White Helmets civil defense group, Sunday night's Oscar win symbolised a victory for Syrian people ravaged by six years of war -- and kindled some hope that the world had not forgotten them.

"The White Helmets", a 40-minute documentary about Saleh's group of rescue workers in war-torn Syria, won the Academy Award in the documentary short-subject category.

'White Helmets' filmmakers say Trump travel ban hurts Syrian subjects

"I did not expect us to win the award," Saleh told Reuters in an interview at the group's office in southern Turkey, near the Syrian border.

"We consider this a new success - a success for all the Syrian people. It has opened a new door for our struggle to reach a different segment of people around the world."

Officially called the Syrian Civil Defence but known by their distinctive white helmets, the group operates a rescue service in rebel-held parts of Syria, which have been subjected to fierce bombardment by the government and Russia's air force that has seen whole city districts leveled.

The film offers a brief look into their harrowing work, as they rush into buildings soon after bomb blasts and dig through heavy rubble and dust for survivors. In one scene, a crying, filthy baby is pulled from the wreckage of a building after being trapped for hours.

"Syrian people have been portrayed as terrorists who are spreading all over the world, but this film presents a different image," Saleh said.

"This was the message we wanted to spread through the film: To say that people in Syria are not terrorists, but they are heroes capable of creating peace and that there are violations against civilians in Syria to which the perpetrators must be held accountable."

Syria's government under President Bashar al-Assad has accused the group of being a front for al Qaeda and of faking footage of the aftermath of air strikes for propaganda purposes, charges the White Helmets deny.

Both Saleh and Khaled Khatib, a rescue worker who is also one of the film's cameramen, were given visas by the United States to visit for the Oscars' ceremony in Los Angeles on Sunday night.

Despite visa, Syrian cinematographer blocked from entering US for Oscars

However, Saleh was not able to leave his work because of the high intensity of air strikes, while Khatib could not attend because Syria's government had canceled his passport.

Khatib said it was unfortunate that he could not make the event, but was proud of what the film had accomplished.

Film-maker Orlanda Von Einsiedel and The White Helmets' producer Joanna Natasegara accepted the award. Von Einsiedel, read a statement by Saleh, in which he said, "Our organisation is guided by a verse from the Holy Quran: 'to save one life is to save all of humanity.' We have saved more than 82,000 civilian lives. I invite anyone here who hears me to work on the side of life, to stop the bloodshed in Syria and around the world."

Einsiedel then urged the audience to show support for efforts to end the war in Syria. "It's very easy for these guys to feel they're forgotten," he added. "This war's been going on for six years. If everyone could just stand up and remind them that we all care, that this war end as quickly as possible. Thank you."

The White Helmets also tweeted that their real win was rescuing a child in Syria while they were announced as winners of the Academy Award.


When "The White Helmets" was announced a winner of the academy award, our team in Ariha, Idleb was rescuing a child. And that's the real win https://t.co/BapxDiFuMS

— The White Helmets (@SyriaCivilDef) February 27, 2017


Khatib in an interview to Reuters said, "I am even more happy that the film managed to express the struggle of the people we documented and the dangerous work of the Syria Civil Defence to rescue civilian lives, it has all been seen by the world."

Listen to the moving acceptance speech by Raed Saleh after The White Helmets won the Oscar:





COMMENTS (1)
Comments are moderated and generally will be posted if they are on-topic and not abusive.
For more information, please see our Comments FAQ