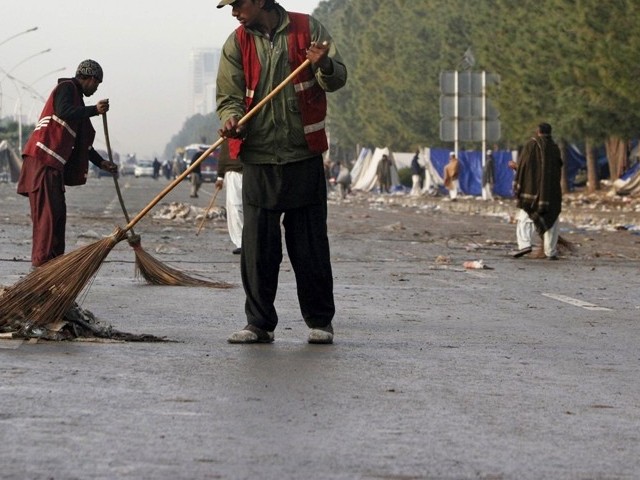 ---
ABBOTTABAD: Sanitation workers went on an indefinite strike over the creation of the Water and Sanitation Authority (Wasa) in Abbottabad on Monday.

Solid waste remained uncollected in Abbottabad and Havelian on Monday as sanitation workers did not work.

During the first phase of their strike, workers of the sanitation branch stopped working. They further threatened to stop the supply of water to the city by completely shutting down sanitation services throughout the Hazara division unless their demands are met.

Office bearers of unions of the sanitation and water supply department from Hazara division had announced on Thursday that they would go on a strike on Monday against the government's decision of setting up Wasa in Abbottabad.

In line with the decision taken by their unions, workers of the sanitation branch from Abbottabad and Havelian observed a complete strike on Monday. They did not collect or dispose of solid waste in the two cities.

The protesting workers also staged a sit-in outside the offices of Tehsil Nazims and Tehsil Municipal Officers of Abbottabad and Havelian, calling for acceptance of their demands. Khalid Miskeen, Zaheer Abbas and Fareed Gul were among those who spoke to the protesting workers on this occasion.

However, sanitation workers in Mansehra and Haripur only observed a token strike, stopping work for only a couple of hours to express their solidarity with TMA workers of Abbottabad and Havelian, before resuming their duties.

Meanwhile, when approached for comments, Tehsil Naib Nazim Sardar Shujah Ahmed said that the services of all the sanitation and water supply workers would be secured under Wasa. He added that in addition to their pensions and seniority benefits, they would also be getting a raise of 20 to 25 per cent in their salaries from Wasa.

He confirmed that offices of Wasa had been set up and that the civic body was likely to start working in a couple of months. The workers believe that Wasa would only add to the burden on the provincial exchequer, in addition to putting the jobs of hundreds of sanitation workers at stake. They had demanded that the provincial government provide 20 per cent of the around Rs1 billion funds – earmarked for Wasa - to the Town Municipal Authority (TMA) Abbottabad to improve water and sanitation services in the area. They had argued that setting up Wasa would serve no purpose as the company's track record in other cities of the province had showed.

Published in The Express Tribune, February 28th, 2017.