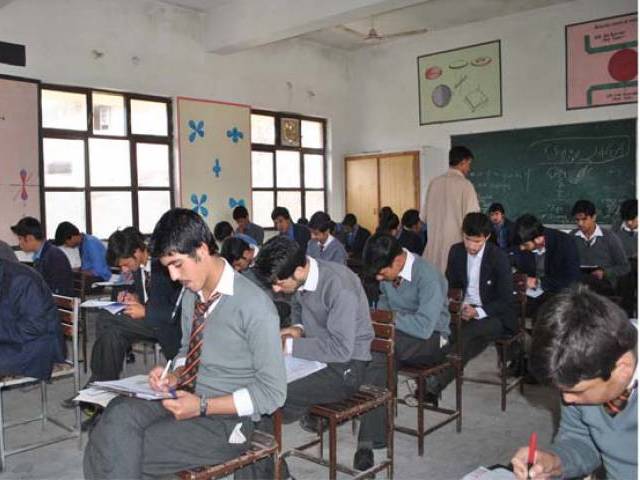 ---
ISLAMABAD: As final exams continue in the capital's schools, daily wage staffers at these educational institutions went on strike on Monday.

They claimed that the strike was held to protest non-payment of their salaries for the last four months.

As a result of the boycott, the workload of examination duties fell on the few regular staff at these educational institutions.

The protesting teachers said they had written to the Capital Administration and Development Division (CADD), a parliamentary committee on the cabinet and even the Finance Division about their pending salaries, but to no avail.

Claiming that they had not been paid since November 1, the teachers warned they would not resume their duties till their dues are cleared.

"We have boycotted all duties, including invigilation and paper checking," said a teacher from a college in F-11/3, while requesting not to be named.

"There are only eight regular staff at our college and about 60 daily wagers, [hence] all the workload is now on the regular staff who are unable to manage it," he said. Final exams for Classes I to VIII are underway in schools while exams for classes IX to X are scheduled to commence from March 14.

In many schools CADD has engaged non-academic staff for invigilation duties, the teachers said.

Delays in paying salaries of some 1,500 daily wagers at the 20 model schools and colleges of the capital are routine since they are paid from supplementary grants released by the finance division. However, it usually refuses to release these grants under various pretexts.

The matter of their regularisation has been pending as well.

Meanwhile, CADD officials said that they have been discussing various possibilities and options to find a way to regularise these staffers.

The division's spokesperson Ateequr Rehman said that Minister of State for CADD Dr Tariq Fazal Chaudhry had also met with secretaries of the Establishment Division and Federal Public Services Commission (FPSC) recently to find a workable solution of this issue.

"CADD forwarded the case to the Finance Division for releasing salaries of daily wage teachers," said Rehman. However, the summary had been returned with observations to implement directions of the prime minister in this case in letter and spirit.

PM Nawaz Sharif had asked to fill the positions on merit after advertising the posts while the case of regularisation is also being heard in high court.

The issue of these daily wage teaching and non-teaching staffers was being discussed and heard in various parliamentary committees and courts but to no avail.

The Senate Standing Committee on Cabinet Secretariat on February 1 had come down hard on government for lingering  the issue and decided to call the secretary to the prime minister and other top government officials to address the issue.

Published in The Express Tribune, February 28th, 2017.