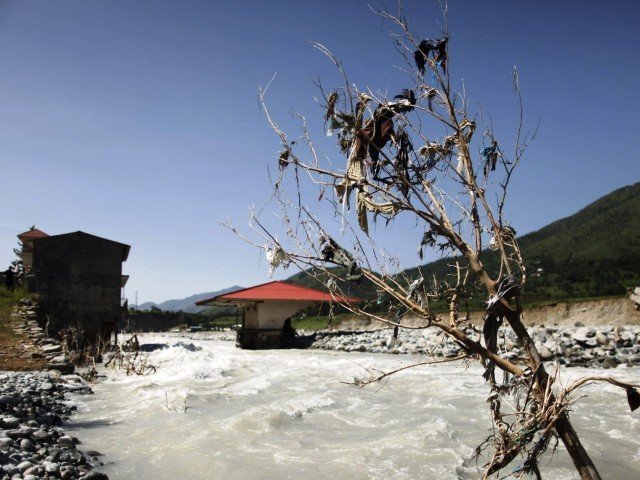 ---
KARACHI: Sindh is more prone to climate change due to its geographical location as compared to the other provinces, said MPA Shafi Muhammad Jamot at the launch of 'Climate Public Expenditure Review' on Monday.
The government of Sindh, he said, has already announced the establishment of a new department to handle environment-related issues.
He was speaking at the ceremony organised by Pakistan Fisherfolk Forum and Oxfam. The session highlighted an analysis of Sindh's 2016-17 budget with reference to allocation to prevent climate change at Regent Plaza on Monday.

The study discussed the need to have a climate change budget with a gender lens specifically, as women are more vulnerable to the adverse effects of climate change.

Devising policy: 'Climate change affects crop yield'

Jamot criticised the government for not taking immediate measures for the adaptation of local plants, protection of mangroves, controlling marine pollution and ensuring fresh water into the delta to mitigate the impact of climate change.

Other speakers also urged that budgetary allocations by the provincial government are insufficient to tackle the threats of climate change. Pakistan is among the world's top 10 countries vulnerable to climate change and can experience adverse impacts if the issue is not being handled by the government, stated another speaker.

Lead researcher Aneela Bibi confirmed that only 6% of the total development budget is related to climate change, adding that while 15% of the GDP of Sindh has been affected by climate change.

Meeting in the ministry: Global body to help strengthen Climate Change Council

Environmental expert Nasir Panhwer said that agriculture is one of the pillars of Pakistan's economy and a major source of livelihood for rural communities.

He said that utmost importance should be given to address the issues faced by small farmers by ensuring development projects for rural communities using solar and wind energy.

Pakistan Fisherfolk Forum chairperson Muhammad Ali Shah said that small-scale farmers, especially women, are the worst hit by the impact of climate change.

Shah asserted that, "A local adaptation plan of action needs to be adopted by the government to cope with these issues and make communities resilient to climate change."

He added that the biggest threat to climate change are capitalists and remarked that, "Unequal distribution of wealth is the main cause of hunger and poverty".

Urgent policy measures are needed to save the lives and livelihoods of millions of people, remarked Pakistan Fisherfolk Forum vice-chairperson Mustafa Mirani. He added that the conversion of natural lakes into agricultural land must be stopped and the theft of water must be made a non-bailable offence throughout the country.

Climate change: Pilot project to study agri data  

"In Pakistan the lower-riparian people have lost the most due to dams, whereas in other countries they are the biggest beneficiaries," he lamented.

He also demanded that new scientific research on fish breeding must be conducted due to the change in the flow of river patterns.