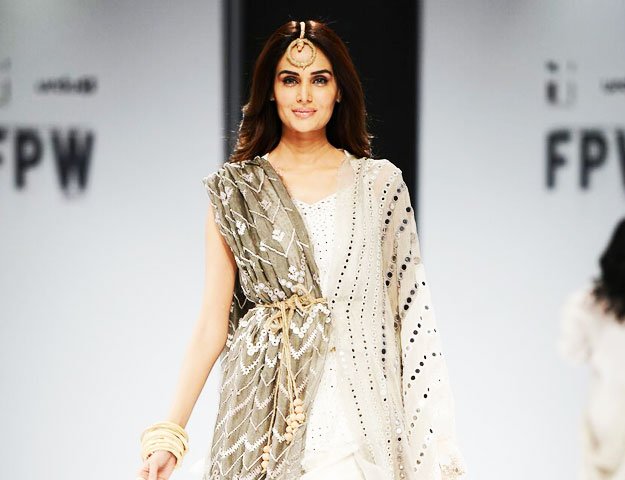 ---
From a week which spanned only two days and designer showcases that two timed to fill in the spots. I couldn't be more ecstatic to be back at a platform which made me a blogger almost six years back. FPW finally lived upto its Karachi credentials for it reminded one of ill fated Karachi Fashion week.

Much alike KFW, the models this time around were less 'Bold & Beautiful' and more 'Stranger Things'. I am all up for inclusivity but there is somewhere we should draw the line. I saw some dead people in the front row and some back from the dead on the ramp.




Two day fashion week doesn't warrant two lengthy posts, so this post is gonna be a long bumpy ride in an local bus.

Starting with the best Nida Azwer's Khalarai collection for White Label was hands down the best collection with its contemporary use of traditional sindhi Sheeshtako, Moti tako, Hurmicho employing mirror and threads in the most beautiful shades of creams and white. Mort ho tiley and ho Jamalo further won the Sindhi in me.




Naushaba Brohi's Inaaya is close to my heart for her artisanal/sustainable fashion stance. Her signature simplicity which makes her retail ready is also her biggest weakness because a lot of fashion folks are looking for theatrical extravagance on runway. Her dupattas and saari paloos with tukka brought a smile to my face. She could have done away with those banners!




Ayesha Farooq Hashwani's cruise collection 'La Plage'  which is French for beach, had patterns of vibrant coral and sea ferns. AFH's tinseled fripperies and hipslung floor-sweeper in underwater prints and chunky gold embellishments was more like Cavalli throwback Thursday.  But I always wonder where are we going with this?




Designer to sportsmen and celebrities Humayun Alamgir's Ayaash was awash with opulence for all the transgressive reasons, although it opened with a classy fashion film, the suits screamed more Dubai than Dublin.




The bling reminded me of shoddy upholstery at the house of a new-money corrupt govt official. Especially those who plunder and take things home why were the models carrying roulette pinball or a toy crocodile?

Nauman Arfeen's Wild Wild Vest was way out of time-space paradigm, only thing wild was the disparate elements : the animalistic fashion video, the LED laden Amitabh Bachan Shahanshah suits and the kids on hoverboards WTF!




Clothes on their own would have fared better with a more sensible paired-down presentation.  In the quest for eclectic entertainment like Kanye West Yeezy spectacle, clothes took a back seat.

Arsalan Iqbal's Nocturnal was thankfully more forgiving with use merino wool and silk jacquard for various types of jackets. Although it was in line with international norms where shows are 6 months ahead. the layering was rather imprudent. Things could have been "lighter" proverbial speaking.

Teena Durani's Debut was banal pastiche of everything popular. The whole collection was a vacuous mish mash of silhouettes. By the end of the show what most of the people remembered was the metallic cuffs and chokers. Much like Michael Kors it was like everything we have been seeing.




Amir Adnan's Basic Banality was an exercise in Throwback Thursday with chokers from 90s and vests being paired with everything odd under the sun. Sorting out laundry in blacks, dark colors and white OR spring cleaning old clothes before summer starts.




FnkAsia's Avian flight was thankfully better fated. More of a undemanding highstreet look  than high fashion pushing the envelope. The deliberately frumpy chic bottoms may have seemed flippant but its signature "Funk". Things could all have been prudent with the embroidery not being cut off abruptly with pattern making.




To my mind Nida Azwer's Susleme was a little unsettling with the hulky shapes, thickly woven layers embellished with tones of beading and thread embroideries. In my head I imagined  as if garments were being embroidered on frames in atelier and suddenly someone put them into a tumble dryer. And this novel could have been called 'Unbearable heaviness of being'

And then there was Fashion DNA which helped fill the slots. I shall be doing a more detailed separate post because it merits the effort the designers put through. The Bank Alfalah Rising Talent also showed a lot of promise.But it was Amato Couture (of me-too gowns) the stocking-stuffer of the show which was purposeless at best assumingly it neither stocks here or has representative to cater to (non-existing clients.)

Some veteran designers presented the old as new, to quote former critic Cathy Horyn"There was nothing lurid or in bad taste about the clothes, but neither was there anything sublime or particularly surprising about them"

With many designers choosing to step-off the hamster wheel of fashion weeks to concentrate on bridals and lawn. The question on everyone's mind was whose interest did the 2 day event serve? But I think the very drabness of clothes is reflective of the times we are in. Quoting Vanessa Friedman 'If you treat your subject with seriousness and respect, other people tend to treat it the same way'. Fashion has come to this.

You can reach the writer of this story here.

The opinions expressed in this article are those of the author and do not necessarily reflect the views of The Express Tribune.

Have something to add in the story? Share it in the comments below.