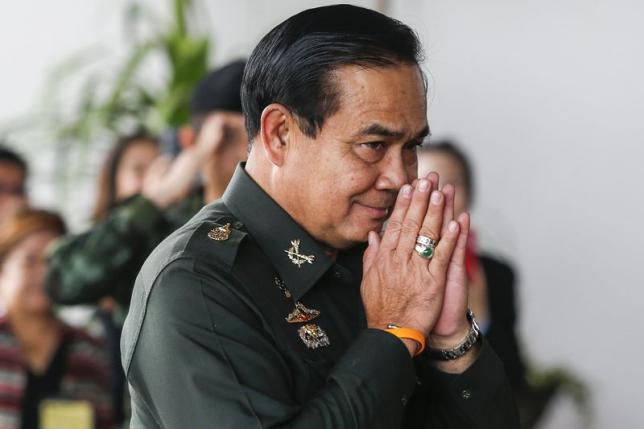 ---
BANGKOK, THAILAND: Thailand's generals took centre stage on Monday at a ceremony blessing the start of construction of an enormous funeral pyre for the late King Bhumibol Adulyadej, a vivid illustration of the army's intimate links to the palace.

Prime Minister Prayut Chan-O-Cha, a former army chief who seized power in 2014, led the ceremony, which saw a crane erect the first of a series of giant steel pillars that will form the cornerstones of what will be a largely wooden pyre next to Bangkok's sprawling Grand Palace.

The ceremony was infused with the religious ritual that permeates palace life with Buddhist monks chanting mantras and Hindu Brahmin priests blowing conches as workers in hard hats fixed the pillar to a concrete plinth.

Thai junta chief says king has chosen new Buddhist leader

Royal cremations in Thailand are grand events. No budget has been publicly released but authorities are spending millions of dollars giving Bhumibol a huge send off.

Few Thais have ever seen a monarch's funeral.

The widely admired Bhumibol was the world's longest serving monarch until his October death.

He ruled for seven decades and his passing has plunged Thailand into an unknown future with his unpredictable and less known son Maha Vajiralongkorn on the throne.

Designs for the funeral pyre show palace architects intend to build a pyre more than 50 metres (165 feet) high, complete with nine spires and covered in sculptures of mythical beasts.

BBC journalist faces five years jail for Thailand reporting

The pyre will represent Mount Meru, a mountain that is the allegorical centre of the universe in Buddhist, Hindu and Jain cosmology.

Bhumibol's body will be placed at the centre before it is set alight with the belief his spirit will return to the mountain.

"The cremation site will be constructed like a divine palace on Mount Meru," General Thanasak Patimaprakorn said during the ceremony.

Thanasak, a key coup plotter in 2014 and a deputy prime minister, has been tasked with overseeing the pyre's construction.

No date has been given for the funeral, but multiple government officials have told AFP they expect the cremation to take place at the end of the one-year official mourning period, in October or November.

During his long reign, Bhumibol assiduously forged links with a military that portrays itself as the ultimate defender of the monarchy, launching more than a dozen coups in the last seventy years, most of which were signed off by the palace.

UN slams first royal slur charge under new Thai king

The military have promised elections next year, but previous poll date promises have slipped.

It is likely the coronation of Vajiralongkorn will need to take place before any elections are held.

Thailand's monarchy is shielded from criticism and scrutiny by a draconian royal defamation law.

Lese majeste cases have skyrocketed since the army came to power.
COMMENTS
Comments are moderated and generally will be posted if they are on-topic and not abusive.
For more information, please see our Comments FAQ