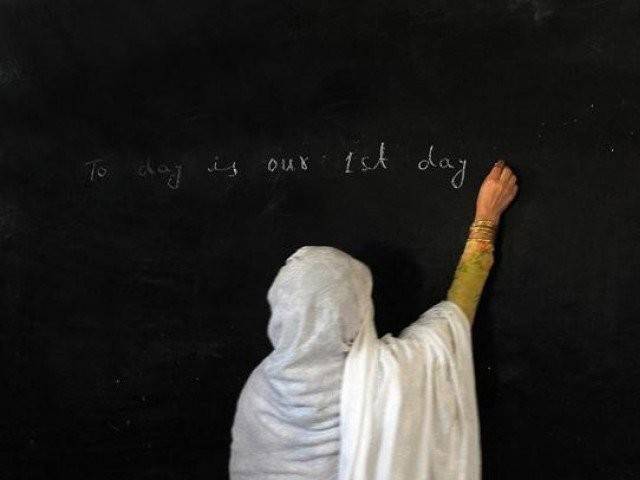 ---
ISLAMABAD: Hundreds of senior school teachers are afraid they may retire in the same grade, complaining that they had been ignored for promotions for the past six years owing to lack of promotion rules for the cadre.

On October 14, 2011, about 1,250 deputy headmasters (BPS-16) deputed in the capital's schools under the Federal Directorate of Education (FDE) had been redesignated and upgraded as Secondary School Teachers (SSTs). Their basic pay scale (BPS) was also upgraded to grade-17.

Those upgrades came following a 2010 announcement for a one-time upgrade for all teachers by the then Prime Minister Yousaf Raza Gilani.

According to the teachers, around 800 women and about 400 men are among those affected by this policy.

While the FDE redesignated the teachers as SSTs, it failed to draft any rules for this cadre over the next five years. The delay, teachers alleged, was due to bureaucratic snags.

With no rules for this new designation, neither were new teachers hired in this cadre nor were existing teachers promoted, even as teachers in other cadres continued to get promotions at regular, prescribed intervals.

In November 17, 2016, the FDE submitted a draft to the Capital Administration and Development Division (CADD) proposing amendments to the promotion and redesignation rules.

However, four months on, the CADD has yet to approve the new rules, giving rise to anxiety amongst the teachers.

The teachers have complained that apart from the one-time upgrade in 2011, they had not received any promotion due to the absence of any promotion formulae  since.

Moreover, some teachers complained that they had neither been promoted before the 2011 upgradation, nor after it. They  expressed their  fears  that they may retire in the same grade.

"The morale of teachers is low because not only they have been denied promotions for years, but junior teachers are being promoted, creating a rift between them," said a teacher, who had been affected by the upgradation, on the condition of anonymity.

"Such issues adversely impact the working environment and ultimately affect academic activities and students," he added.

"A teacher who holds a master's degree and was appointed in the early 90s, serving for more than 27 years, has not been promoted and has reached the age of  superannuation in the same post," said Malik Ameer, President of school teachers association.

"There is great unrest among them [teachers who got a one-time upgrade  only]," Ameer added.

He further said that any promotions granted to junior teachers whilst excluding SST teachers would compel the affected teachers to resort to an endless litigation process.

While the upgradation matter persists for most teachers who received it, the Federal Government Educational Institutions under Cantt and Garrison Directorates had resolved the issue of change in nomenclature and upgradation of such positions.

The SSTs urged the CADD to amend the existing rules in accordance with their redesignations and upgradations before they retire, so that any discord and conflict within the teaching community can be avoided.

Published in The Express Tribune, February 27th, 2017.
COMMENTS
Comments are moderated and generally will be posted if they are on-topic and not abusive.
For more information, please see our Comments FAQ