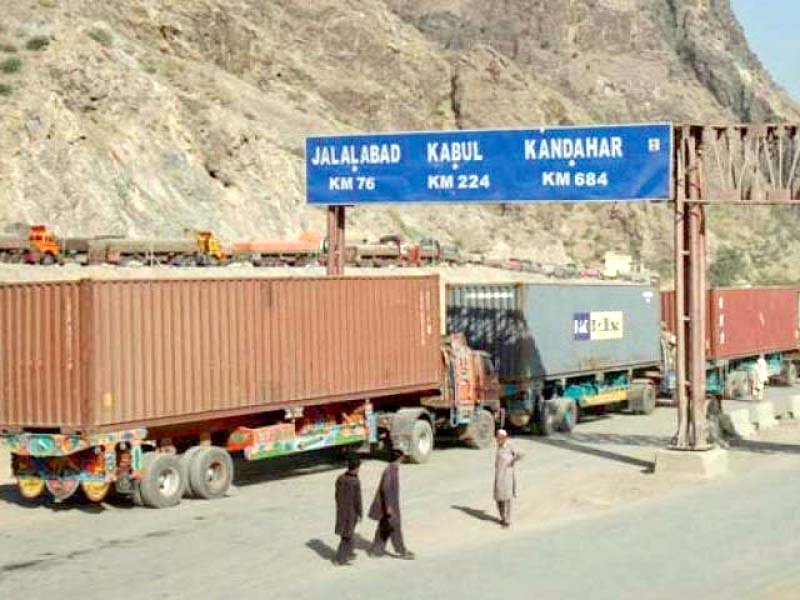 ---
KARACHI: The recent wave of violence in Pakistan has resulted in the closure of Pakistan-Afghanistan border thus further dashing any hopes of economic engagement between the two neighbours that have a history of bumpy political ties.

This is not the first time when Pakistan has closed its border with Afghanistan; it has done this quite often in the near past. So what does this rising temperature mean for the business community of both countries?

Two FC personnel injured in 'terrorist attack' on Pak-Afghan border

The message is quite clear: political ties are not going to improve and hence there is no hope for better business ties at least in the near future.

Analysts say Pakistan is more interested in Central Asian markets compared with Afghan markets because of the latter's poor economy and small market size. But for that it has to cross Afghanistan's territory, something that it has hindered for long due to its rough relations with Pakistan

However, the scenario is going to change soon because China-Pakistan Economic Corridor (CPEC) is going to provide Pakistan an option to bypass Afghanistan and reach Tajikistan through China.

Last week, The Express Tribune reported that Tajikistan's request for inclusion into the Quadrilateral Traffic in Transit Agreement (QTTA) — a deal between China, Pakistan, Kyrgyzstan and Kazakhstan for facilitating transit traffic and trade — has been approved.

This means that Tajikistan will now become a formal participant once its parliament approves the move. Trade between Tajikistan and Pakistan has risen steadily from $15 million in 2011 to $90 million in 2016, and Tajikistan wants to bring the volume up to $500 million.

Land-locked Tajikistan's willingness to increase trade with Pakistan makes sense because currently it and Central Asian countries rely on seaports in China, Turkey, Iran, Russia and the Baltic States. Pakistan's route will be short and economically viable.

The combined size of five Central Asian economies is well over $300 billion (with average per capita income of over $6,000) while their population is also more than doubled compared to Afghanistan. In comparison, Afghanistan's small economy of just $20 billion and population of 30 million do not make a viable business case for Pakistan.

Pakistan and Central Asian countries have huge common economic interests. On the one hand, Pakistan desperately needs energy imports from oil and gas rich Central Asia. While on the other hand, the ports of Pakistan provide landlocked Central Asian states the closest warm water routes for trade.

Despite making all efforts to increase its trade with Central Asian countries, Pakistan has been unable to tap new markets due to security concerns and its uneven relations with land-locked Afghanistan.

Coming back to Pak-Afghan economic ties, one can imagine how badly traders on both sides of the border are going to take a hit if borders remained closed.

Pakistani MPs, politicians plan trip to Afghanistan

Pakistan exports a host of products to Afghanistan like food items, purified water, cement, etc; but analysts say Pakistan is not going to suffer the affect as much as Afghanistan. Pakistan's landlocked neighbour is heavily dependent on it and its poor farmers who export their fresh food items like fruits to Pakistan may be the worst affected people.

Last year, poor Afghan fresh fruit farmers had lost their whole crops when Pakistan closed down its borders with Afghanistan for weeks.

Border closures and tense political relations hit the economy of both countries. This also helps support smuggling and discourages formal trade due to porous borders. Therefore, Pakistan and Afghanistan need to sort out their difference otherwise business and trade communities on both sides of the borders will continue to suffer.

Published in The Express Tribune, February 27th, 2017.

Like Business on Facebook, follow @TribuneBiz on Twitter to stay informed and join in the conversation.
COMMENTS
Comments are moderated and generally will be posted if they are on-topic and not abusive.
For more information, please see our Comments FAQ