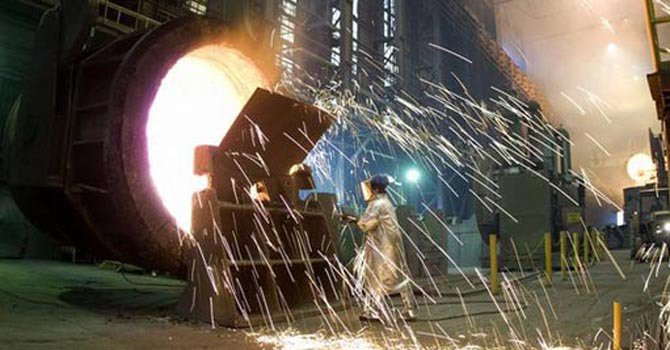 ---
LAHORE: China is the largest steel producer in the world and contributes up to 50% of the total production. It started to expand production back in 2008 owing to a huge fiscal stimulus that resulted in urbanisation of China on a large scale with huge infrastructure projects.

In order to meet the local pent-up demand, the Chinese State Owned Enterprises kept on increasing production capacities. However, the slowdown in the Chinese economic growth and continuous global economic slowdown reduced steel demand.

PC seeks tax break, curb on imports before offering PSM on lease

Under those circumstances, large Chinese producers started to dump their excess production into developing economies and Pakistan is not an exception. Our nascent steel industry is not in a position to counter this dumping menace.

Although the National Tariff Commission (NTC) remained dormant for a couple of years, it came to action with the imposition of import duty on Chinese steel. The import duty has been imposed on the insistence of the domestic steel industry since it is unable to compete with Chinese steel.

Pakistan Steel Mills (PSM) used to contribute heavily towards domestic demand since 1974 and played a pivotal role in developing the downstream steel industry.

Here downstream means that the steel firms further processed the output of Pakistan Steel billets and made steel sheets. With the halt in operations of PSM, domestic producers have had to import raw material and process them accordingly.

In the absence of PSM, domestic downstream industry pondered over to expansion in 2014 since construction sector started to revive.

With the boom in construction activities along with the resolve of the government to allocate a decent amount for infrastructure projects and hype of the China-Pakistan Economic Corridor-related activities, it compels domestic steel producers to expand their production capacities.

When they are ready to invest, it becomes necessary for the government to facilitate and protect their investments. As a consequence, they lobbied and called for protectionism through import duties.

The protectionist policy should demand certain actions on part of the domestic steel industry to improve their efficiency in due course since a policy can neither always be protected nor stagnant.

The international steel prices started to rebound in 2016 and are the reflection of slight recovery in steel demand. When international steel demand increased with prices, dumping by large Chinese producers would decrease. Under those set of conditions, the degree of protectionism may decrease.

This requires agility on the part of NTC. Unfortunately, there is a lack of policy flexibility and policy measures are usually static.

Significance of protectionism

Protectionism is necessary from the perspective of job creation. When domestic steel industry expands, jobs would be created. The policy of protectionism has been followed by many developed economies in the past and the emergence of Brexit and Trumponomics also show that they intend to follow protectionist policies. This also shows that such policy actions are politically and socially desirable.

The free market ideologue would argue that protectionism misallocates the resources and promotes a rent-seeking economy. They further argue that liberalisation of economy would increase economic growth which in turn creates jobs.  We have to be sympathetic with this kind of argument, but this is a traditional argument which has been tried and tested in Pakistan with deleterious consequences.

The protection of steel industry would increase the cost of construction to some extent and there are chances that cars may get slightly expensive. But we have to remember that the auto industry reaches this level due to a protectionist policy followed by the previous governments.

Ailing steel mill: Govt offers NBP land and SSGC bonds to settle PSM debt

In short, the threat of premature de-industrialisation has created lots of difficulties for the policymakers since they have to appease the growing aspirations of youth. We have to devise policies to guard against de-industrialisation and promote jobs to create a healthy society.

The writer is an Assistant Professor of Economics at LUMS

Published in The Express Tribune, February 27th, 2017.

Like Business on Facebook, follow @TribuneBiz on Twitter to stay informed and join in the conversation.
COMMENTS (10)
Comments are moderated and generally will be posted if they are on-topic and not abusive.
For more information, please see our Comments FAQ