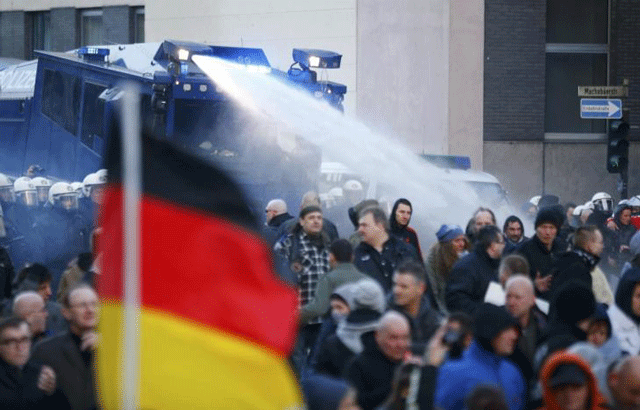 ---
BERLIN: Germany saw more than 3,500 attacks against refugees and asylum shelters last year, interior ministry data showed, amounting to nearly 10 acts of anti-migrant violence a day as the country grapples with a record influx of newcomers.

The assaults left 560 people injured, including 43 children, the ministry said in a written response to a parliamentary question seen by AFP on Sunday.

The government "strongly condemns" the violence, the letter said.

"People who have fled their home country and seek protection in Germany have the right to expect safe shelter," it read.

A total of 2,545 attacks against individual refugees were reported last year, the ministry wrote, citing police statistics.

Man drives into crowd in German town, three people injured: police

There was no immediate comparison with previous years as it was only introduced as a separate category under politically motivated crimes in 2016.

Additionally, there were 988 instances of housing for refugees and asylum seekers being targeted last year, the ministry said, including arson attacks.

That was slightly down on 2015 when there were just over 1,000 criminal acts against refugee shelters. In 2014, there were only 199 such cases.

The sharp rise in hate crimes came after Germany took in some 890,000 asylum seekers in 2015 at the height of Europe's refugee crisis.

Chancellor Angela Merkel's decision to open the doors to those fleeing conflict and persecution polarised the country and fuelled support for the rightwing populist Alternative for Germany (AfD) party.

The number of arrivals fell sharply in 2016 to 280,000, mainly thanks to border closures on the Balkan overland route and an EU deal with Turkey to stem the inflow.

136 Turks with diplomatic status sought asylum in Germany: ministry

A lawmaker for Germany's far-left Die Linke party, Ulla Jelpke, blamed the anti-migrant violence on far-right extremists and urged the government to take stronger action.

"We're seeing nearly 10 (criminal) acts a day," she told the Funke Mediengruppe, a German regional newspaper group.

"Do people have to die before the rightwing violence is considered a central domestic security problem and makes it to the top of the national policy agenda?" she asked.

A German neo-Nazi was sentenced to eight years in jail this month for burning down a sports hall set to house refugees, causing damage worth €3.5 million ($3.7 million).

In another case that shocked Germany, a crowd of onlookers cheered and applauded as an asylum shelter went up in flames in the country's former communist east last February.
COMMENTS (2)
Comments are moderated and generally will be posted if they are on-topic and not abusive.
For more information, please see our Comments FAQ