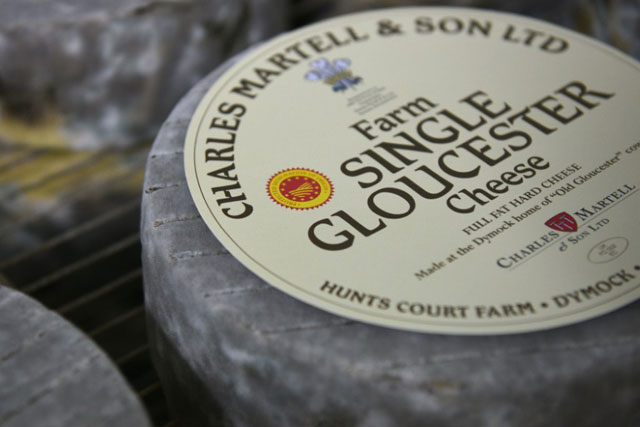 ---
In the rolling countryside of southwest England, farmer Charles Martell is tending to his rare breed of cattle while two of his dairy workers get to work making Single Gloucester cheese -- a British delicacy.

It has been two decades since Martell gained European Union protected status for his premium cheese, meaning it can only be made according to a pre-defined recipe and in a specific location. Britain's impending EU exit puts that status at risk.

This watch made from cheese is worth almost one million euros

"The reason I did it was because people were starting to make the cheese outside the county, and I thought: 'Clear off! It's not your cheese, go away'," Martell told AFP, surrounded by his black brown Gloucester cows in the rural county of Gloucestershire on an icy February day.

Dozens of Britain's signature foods and drinks are expected to lose their special EU status with Brexit, leaving producers like Martell facing uncertainty over how to protect their businesses.

From Cornish clotted cream to Scottish wild salmon, Scotch whisky and Stilton cheese, Britain boasts 77 products which are part of the same EU scheme as French Champagne and Italy's Prosciutto di Parma ham.

The EU stamp means consumers know they are getting the genuine article.

According to the European Commission, such items sell for an average 2.3 times more than a similar but non-authenticated item, while producers can additionally apply for EU funding to promote their products.

EU labour

UK farmer Charles Martell obtained EU protected status to protect Single Gloucester cheese which he revived in 1976 with the help of a 1931 local recipe

Farm fresh: Farmers' market now serves fresh food two days a week

Martell, who supports Britain leaving the EU, said his main motivation for getting the Protected Designation of Origin (PDO) label was to protect Single Gloucester, which he revived in 1976 with the help of a local recipe from 1931.

The full-fat hard cheese, which originated in the county more than 200 years ago, can only be made on Gloucestershire farms that have a herd of Old Gloucester cows.

The early days saw Martell hand-milking three cows and selling cheese at a local market.

He now exports to 30 countries.

His business relies on the expertise of a Romanian cowherd and the skills of his Polish and Bulgarian cheesemakers, whose right to live and work in Britain will also be affected by Brexit -- a major concern for many farmers.

Martell said his Romanian employee has cow-milking experience from his home country that is not often found among young British jobseekers.

British farmers have voiced concerns about being able to attract local staff if Brexit restricts their ability to hire seasonal and permanent EU workers.

"I'm sure we'll find a way to reach Europe anyway" even without the PDO label, Bulgarian Daniela Welch told AFP. She has been producing Single Gloucester for Martell for more than 13 years.

Even before the sun is yet up, Welch and her colleague don white overalls with matching rubber boots to begin transforming the cow's milk into hard cheese wheels. They are then stored while they develop a mouldy rind ready to be sold.

'Hugely important'

Farmers like Charles Martell have voiced concerns about being able to attract local staff if Brexit restricts their ability to hire seasonal and permanent EU workers

Meanwhile, producers of Newmarket Sausages in eastern England said they had sought a slightly different EU label of Protected Geographical Indication (PGI) to distinguish their brand after copies claiming to be the traditional pork and herb recipe started popping up on the market.

Grant Powter, whose family has been making the sausages since the 1880s, told AFP that the designation was "hugely important" for food safety and authenticity as well as helping exports.

In the town of Newmarket, after which the sausages were named, another family butcher's, Musk's, established in the same decade, also got the regional speciality status to shield itself from imitation, said the company's Edward Sheen.

"Until Article 50 has been triggered it's all slightly up in the air," Sheen said in a telephone interview, referring to the formal process to begin Brexit negotiations.

'Great food nation'

Britain's agriculture ministry has not yet outlined a programme to replace the EU scheme after Britain leaves the bloc.

However, a ministry spokeswoman told AFP that "these products are extremely important to our reputation as a great food nation and we will work to ensure they continue to benefit from protection in the future."

Martell said he believed the British government would act to help protect regional foods from imitations.

"I can't believe the government won't do something, a British version of it.... They'd be crazy not to."

The Gloucester area voted to leave the EU in the June referendum, which saw 52 per cent of voters nationwide supporting Brexit.

"I did vote and I value our sovereignty," Martell said of the referendum, adding he hoped Brexit would lead to greater environmental protection and end the subsidy system for large farms.

"I think there's much too much subsidy given keeping the big farms big," he said.

Martell said he was concerned that farming may not be one of parliament's top priorities in negotiations with Brussels on the terms of Britain's future EU relations, expected to start this year.

"They've got a hell of a lot to do; they've got 40 years of EU to undo. I don't think we'll be that high on the list."