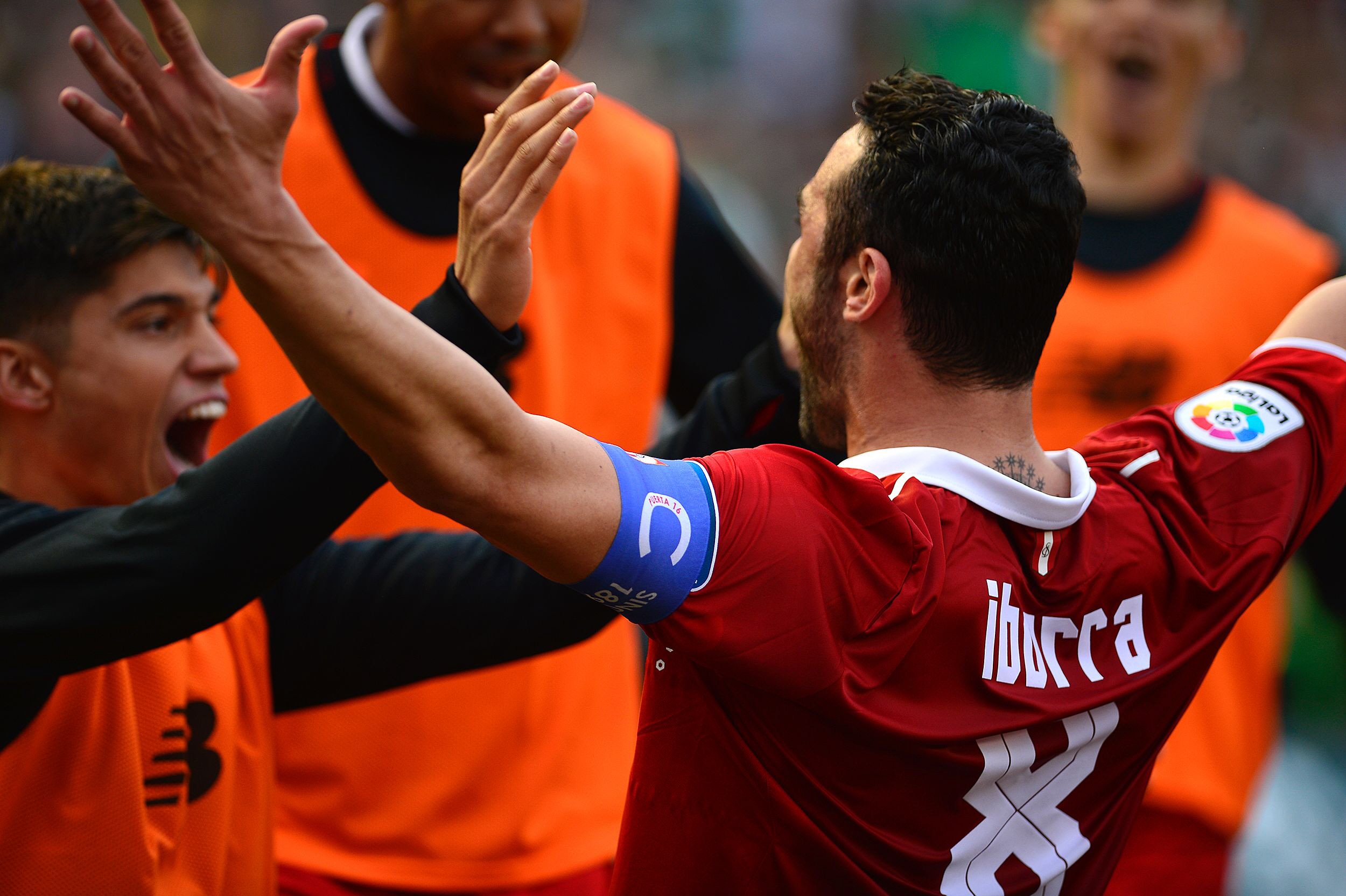 ---
SEVILLE: Sevilla's unlikely La Liga title bid remained intact as another masterstroke from Argentine coach Jorge Sampaoli maintained their dominance over local rivals Real Betis.

With his side 1-0 down and thoroughly outplayed in the first-half at the Benito Villamarin on Saturday, a Sampaoli double substitution turned the game around.

Vicente Iborra came on to score the winner and extend Sevilla's unbeaten run over Betis to 10 games.

"Vicente made a big impact," said Sampaoli. "He was one of the architects that forced the team to show a different side of themselves in the second-half."


No rush for Bale return, says Zidane


Iborra also had a hand in Sevilla's equaliser as his initial effort was turned into the path of the grateful Gabriel Mercado by Betis goalkeeper Antonio Adan for the Argentine to blast home.

However, the midfielder's winner 15 minutes from time from another set-piece was just the latest big goal by a Sevilla substitute this season.

The Europa League holders have benefited from 14 goals scored by substitutes, double the number scored by league leading Real Madrid's players off the bench.

"In the first-half we had zero chance of getting something positive and it took the rebellion of the second-half for that to happen," said Sampaoli. "Betis are one of the teams that have caused us the most damage, but we have to keep thinking about what we did in the second half to be able to dream about staying at the top of the table."


Real extend La Liga lead with 3-0 win over Sociedad


Betis looked well on course for their first derby win since 2012 when Danish defender Riza Durmisi's free-kick nine minutes before half-time gave the hosts the lead.

"We didn't play well in the first-half and a change of attitude was necessary," said Mercado. "We changed the system, went to a back four and the introduction of Vicente was fundamental because he gave us a lot more balance in midfield and, above all, he was important in both goals."

Sevilla have been lauded for their free-flowing football since Sampaoli's arrival at the start of the season.

However, Iborra underlined the importance of their effort and belief to turn the game around after the midweek exertions of beating English champions Leicester City in the first leg of their Champions League last 16 tie.


Barca's title defence suffers another blow


"We weren't ourselves and we had to change," said Iborra. "We can't always play as we want and we showed heart and pride to turn it around. We changed everything because the first-half belonged to them. The second half was ours from start to finish. This victory reinforces the work we have done so far this season."