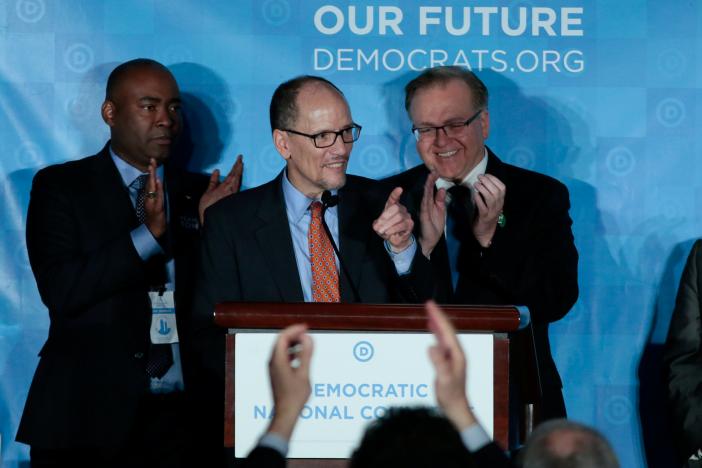 ---
WASHINGTON: Opposition Democrats on Saturday chose Tom Perez as their new leader, tapping an establishment figure to lead the fight against President Donald Trump and the Republican Congress.

Perez, a labor secretary under former president Barack Obama and the party's first Hispanic-American leader, immediately named the contest's runner-up, leftist lawmaker Keith Ellison, as the party's deputy chairman.

"Someday, they're going to study this era in American history... and ask the question, of all of us, where were you in 2017 when we had the worst president in the history of the United States?" said Perez, 55.

"And we will all be able to say, the united Democratic party led the resistance, ensured this president was a one-term president and elected Democrats across this country."

Democrats set to pick leader in new Trump era

Ellison, an 53-year-old African American who is the first Muslim elected to the US Congress, warned that "we don't have the luxury to walk out of this room divided."

The fight over who would chair the Democratic National Committee (DNC) appeared at times to be a proxy battle between the supporters of defeated 2016 Democratic presidential candidate Hillary Clinton and her leftist primary rival Bernie Sanders.

Perez, who won 235 votes against 200 for Ellison -- a strong Sanders supporter -- was seen as the establishment pick.

A third candidate, South Bend, Indiana Mayor Pete Buttigieg -- a gay, 35-year-old Rhodes Scholar and military veteran -- dropped out of the race before the vote, which was held in Atlanta, Georgia.

Unlike in other democracies the leaders of the two main US parties wield little influence on policy, with leading party lawmakers holding far more clout.

But this backstage role is taking on greater significance following Clinton's surprise 2016 defeat, and as Democrats prepare for next year's midterm elections and the 2020 presidential vote.

Senate confirms Tillerson as US secretary of state

Perez succeeds interim chair Donna Brazile, who took over after Representative Debbie Wasserman Schultz was ousted in mid-2016 when leaked emails showed that some DNC members, who are pledged to be neutral in presidential primaries, favored Clinton over Sanders.

The progressive group Democracy for America was upset with the "incredibly disappointing" vote result.

After the vote Trump offered what appeared to be tongue-in-cheek congratulations on Twitter.

"Congratulations to Thomas Perez, who has been named Chairman of the DNC. I could not be happier for him, or for the Republican Party!" he wrote.

Perez's response: "Call me Tom. And don't get too happy. @keithellison and I, and Democrats united across the country, will be your worst nightmare.