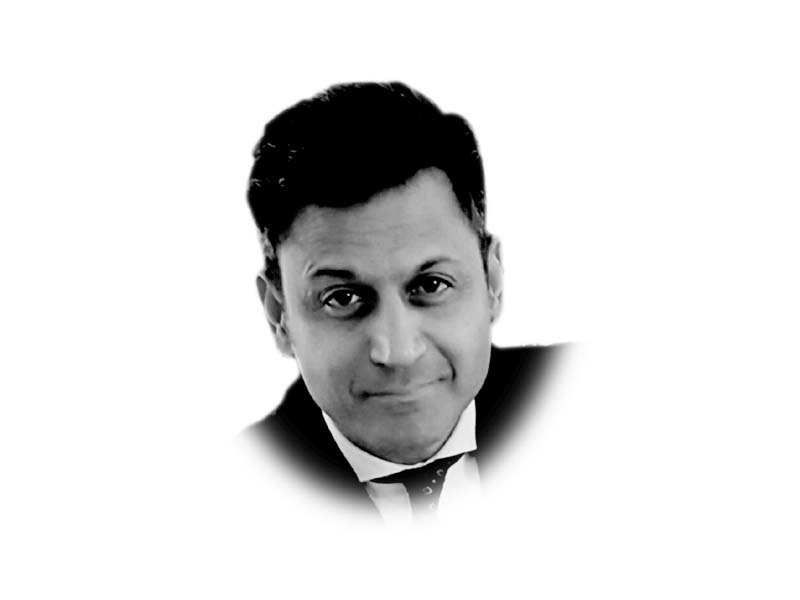 ---
Now you see and hear the narrative of victory, now you don't. It's as frustratingly simple as that.

And so it is that what was built step by step, brick by brick, tweet by tweet over the last few years has suddenly been shattered in a deadly hail of explosions across the country. If the back of the terrorists had been broken — as we were told ad nauseum — they have clearly regenerated a new and muscular back.

Bravado won't cut it anymore. No sirs, the time for chest-thumping, jaw-clenching and fist-pumping is over and done with. Gone too is the time for boasts and promises which are long on verbiage and short on specifics. As terrorists once again wreak havoc across this fair land, it is time now to ask uncomfortable but necessary questions that slice through the thick foliage of official rhetoric.

Question 1: If Operation Zarb-e-Azb destroyed the terrorist sanctuary in North Waziristan and pushed terror-mongers into Afghanistan or into our urban sprawl, were the gains of the operation not temporary?

Question 2: And if this be the case, as it appears, was this temporary nature of the operation's gains a planned outcome? Was it actually foreseen by the planners that they would push the terrorists into Afghanistan and that would constitute as acceptable victory?

Question 3: If it was a planned outcome — with the realisation that depriving the terrorists of their North Waziristan base would only dislocate them, not dismember them — was this not a faulty outcome?

Question 4: If this was a faulty outcome — as it now appears — is it not fair to ask if the operation a) could have been better planned? b) Could not achieve the objectives laid out? In both cases, we the citizens of Pakistan need to know.

Question 5: When the terror-mongers were pushed into Afghanistan, did our decision-makers believe the terrorists' capability to inflict terror had been degraded to a level where they did not pose a serious threat? If this be so, what was this assessment based on? And who was responsible for this assessment?

Question 6: If our decision-makers however believed that these terrorists still posed a very significant and potent threat from their sanctuaries in Afghanistan, what did these decision-makers do to neutralise this threat? And if whatever they did clearly did not work as evidenced by this new brutal wave of terror, then who is responsible for not doing whatever needed to be done?




Question 7: We may have destroyed the terror sanctuaries in North Waziristan but why did we fail to smash the networks spread across the country that support the movement, logistics of terrorists and shelter suicide bombers and their handlers? Did we not have sufficient intelligence? If so, what were all these Intelligence Based Operations glamorously known as 'IBOs' that were bandied about in all official claims? And if we failed in smashing these terror-supporting networks, which we seem to have, who should be held accountable?

Question 8: Our brave men and women in uniform have laid down their lives in fighting these terrorists and their supreme sacrifice shall be honoured by one and all. Can we however say the same thing for all those people who were mandated to crush the scourge of terror and have not been able to? What should they say to the heirs of all those martyred in Karachi, Lahore, Sehwan and other places?

Question 9: Ever since the attacks on Lahore and Sehwan we have rounded up hundreds of terrorists and killed many of them. Good. But if we could do all this in such a short time, why did we not do it before? Why did we have to wait for them to attack us?

Question 10: In the wake of the Lahore and Sehwan attacks we mobilised our air force and artillery and pounded terror camps inside Afghanistan. Good. But if we could do this now, why did we not do it before? Why did we have to wait for hundreds of Pakistani citizens to be butchered — again — to go on the offensive?

Question 11: Why has the NAP-touted Madrassa reform not happened? Was it political expediency so as not to ruffle the feathers of political allies? If so does it mean those that sacrificed the agreed upon Madrassa reform at the altar of political gains now must share the blame of the carnage unleashed by the terrorists?

Question 12: Who is responsible for the miserable failure in reforming the rotten criminal justice system? Does this failure not require accountability given the cost in human lives that we are paying?

Question 13: If Operation Radd-ul-Faasad is focusing on Punjab, why did Operation Zarb-e-Azb not do the same? Who is responsible for not allowing an operation against Punjab-based terror groups and what were the reasons for not allowing such an operation? If the reasons were political in nature, do the people responsible for this delay realise the criminality of their resistance and the bloody consequences? And wouldn't the citizens of Pakistan be justified in asking them to explain why they disallowed an operation in Punjab earlier and why they have agreed to it now?

Question 14: Is it feasible to expect the governments at the Centre and provinces to take tough political decisions now that elections are a mere year away? Can the governments institute Madrassa reforms in the face of tough resistance from people like Maulana Fazlur Rehman? Can they initiate other key reforms promised in NAP knowing that reform gets more and more difficult as elections draw near? And if they do not, would this not mean that politicians are ready to sacrifise lives of their citizens in order to win the next election?

Question 15: And finally who among the decisionmakers has the moral courage to admit to the citizens of Pakistan that the State and the government have let them down? Who among them can list down all the reasons that led to this sudden resurgence of terrorism?

The time for pompous official rhetoric is over; the time for brutal honesty has arrived.

Published in The Express Tribune, February 26th, 2017.

Like Opinion & Editorial on Facebook, follow @ETOpEd on Twitter to receive all updates on all our daily pieces.
COMMENTS (2)
Comments are moderated and generally will be posted if they are on-topic and not abusive.
For more information, please see our Comments FAQ