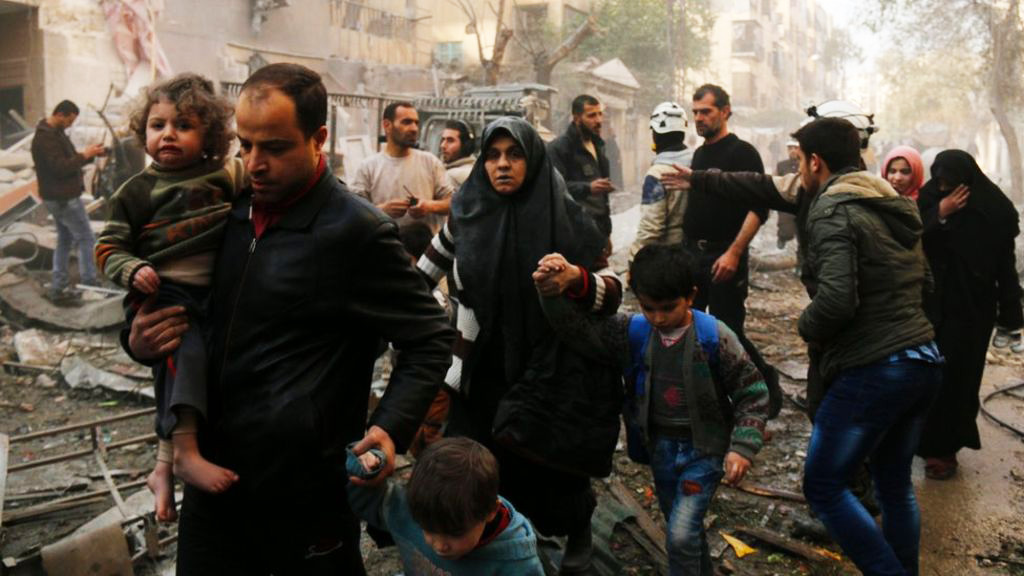 ---
United Nations efforts to launch a new round of Syria peace talks sputtered Saturday as suicide attacks killed dozens of people, with the death toll from two days of violence nearing 100.

The blasts targeting two security service bases in Homs killed a top intelligence chief and close confidant of Syrian President Bashar al-Assad and were claimed by former Al-Qaeda affiliate Fateh al-Sham Front.

The Syrian Observatory for Human Rights said in all 42 people were killed, however, the provincial governor put the figure at 30 dead.

The attack came a day after 77 people were killed in a suicide bombing claimed by the Islamic State (IS) group in Al-Bab, said the Observatory.

The militants were ousted from the northern town this week by Turkish-backed rebels.

UN envoy meets Syrian rivals, but hopes dim for peace talks

In Geneva, the Syrian government and opposition negotiators were to continue meetings with UN envoy Staffan de Mistura through the weekend although there was little hope for a breakthrough.

After meeting de Mistura on Friday, regime delegation chief Bashar al Jaafari said he would study a UN paper on the 'format' of the talks, but gave no indication that the negotiations had any momentum.

The main opposition High Negotiations Committee (HNC) described its meeting with de Mistura as 'positive', without elaborating on a possible path forward.

During three previous rounds of talks in Geneva last year, the rivals never sat down at the same table, instead leaving de Mistura to shuttle between them.

The HNC has said it wants to meet the government face-to-face this time.

At the end of Friday's negotiations, de Mistura's acting chief of staff Michael Contet signalled there was no immediate prospect of direct talks.

Saturday's attack in Homs saw bombers targeting the headquarters of state security and military intelligence in a spectacular assault that killed General Hassan Daabul, a top military intelligence official.

Turkish military says 56 Islamic State militants killed in Syria

"There were at least six attackers and several of them blew themselves up near the headquarters of state security and military intelligence," Syrian Observatory for Human Rights director Rami Abdel Rahman said.

Fateh al-Sham Front said just five militants took part in the assault, the latest atrocity in a six-year war which has killed more than 310,000 people.

Security forces locked down the city centre after the bombings.

Homs has been under the near full government control since May 2014 when rebels withdrew from the centre under a UN-brokered truce deal.

But it has seen repeated bombings since then, including twin attacks early last year that killed 64.

But it has seen repeated bombings since then, including twin attacks early last year that killed 64.

The Observatory said that the last rebel enclave, the Waer neighbourhood, was hit by air strikes after Saturday's attack.

Like its militant rival IS, Fateh al Sham is not party to a ceasefire between government forces and rebel groups taking part in the Geneva talks.

Despite renouncing links with al Qaeda last year, it remains blacklisted as a 'terrorist' group by the UN and western governments.

Syria's opposition is in a much weaker position compared to the last round of UN-brokered talks in April 2016, notably following the loss of their stronghold in eastern Aleppo.

Despite the setbacks on the ground, the HNC still insists that Assad leave power.

UN-backed Syria talks restart with rebels on back foot

Damascus says the president's future is not up for discussion.

For the UN, the talks are about 'political transition', a term contained in Security Council resolution 2254 that provides the framework for the peace process.

"Transition means transferring the authorities to a transitional governance body," opposition negotiator Basma Kodmani told on Friday, specifying that in this body "there is no role for Bashar al Assad."

De Mistura has admitted he was 'not expecting miracles' in Geneva, but hoped this round could help build at least some momentum towards an eventual deal.