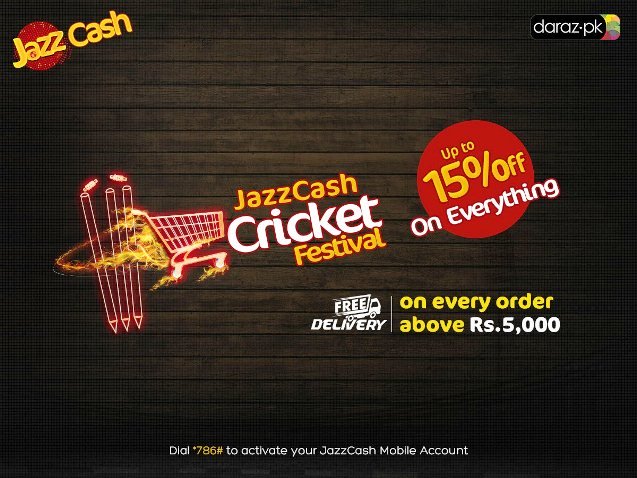 ---
Cricket buzz is at an all-time high with the successful launch of the Pakistan Super League (PSL). The crowds are roaring and spirited, it is the kind of adrenaline and triumph you can touch! Never one to miss out on fun and adventure, Daraz.pk and JazzCash have entered the arena and are ready and geared up to start an exciting innings of their own, bringing the JazzCash Cricket Festival, offering the most exciting way of spending cricket season with the best deals and discounts available on the internet.


Best deals on the internet – howzat?

Daraz.pk is the leading and only one-stop shopping destination with the biggest variety of products under one roof and with JazzCash as a payment partner, the duo are bound to heavy-ball a great customer experience. The JazzCash Cricket Festival starts on Daraz.pk from February 23, aiming to clean-bowl customers with discounts up to 65% on smartphones, fashion, beauty, home appliances, electronics, TVs, cameras, sports and fitness equipment, gaming consoles and several other categories.

Speaking on the occasion, Dr Jonathan Doerr, Co-CEO Daraz said, "Daraz and JazzCash have teamed up to offer the best way to spend cricket season. This is the first big event this year after Black Friday 2016, once again we will sweep you off your feet with unbelievable prices from leading brands and some exciting product launches."

Aniqa Afzal, Chief Digital & Financial Services Jazz, commenting on the partnership said, "In our drive to provide our customers with the best possible deals, our partnership with Daraz.pk marks an important milestone in our digital journey as the Number 1 Digital Company in Pakistan. JazzCash provides a sustainable and secure e-commerce platform for its customers and enables them to use the convenience of the JazzCash network."      




Latest Lawn Collections hit it out of the park  

All these bouncers and beamers aren't it! The pitch just saw a googly; exciting news comes for fashion lovers where the shopping event is offering a 15% discount on brand new season-ready Lawn collections, featuring a range of top brands including Gul Ahmed, Al Karam, Ethnic, Tarzz, Almirah and Junaid Jamshed. Discounts on the latest lawn is an unheard of concept but JazzCash and Daraz are making it happen for the first-time ever.


Xiaomi makes its stride on Daraz

This week, Xiaomi made its stride in Pakistan, exclusively on Daraz.pk. The launch, that has brought together Pakistan's largest online store and Asia's most innovative smartphone brand in what promises to be a complementary relationship was already very exciting news and had the whole country buzzing. However, the pitch just got hotter, customers can now buy Mi's latest phones on Daraz.pk with a 15% flat discount with JazzCash. Mi Max is already available for purchase and Redmi 4A will be launching on February 25.


Bachat Bazaar scores a hat-trick this month 

The Bachat Bazaar this month is also in partnership with JazzCash. Scoring a hat-trick, with free shipping, a promise of super-fast delivery across Pakistan and an exciting offer of flat 15% discount through JazzCash. Shopping for all groceries and home products on a single trusted online platform means no queuing at checkout, no parking hassles and not the least great value, more so with JazzCash.


How to avail the best discounts

The JazzCash payment option can be availed instantly either from the JazzCash Mobile Account, or through any VISA or MasterCard, or by simply walking in to any one of the JazzCash shops. Customers will get an additional flat 15% off if they pay via their JazzCash Mobile Account and 5% discount through card payments and through over-the-counter vouchers.

Jazz and Warid customers can easily open their JazzCash Mobile Account by dialing *786#. Other network customers can visit JazzCash agent to open Mobile Account.

Pakistanis should no more wait in the pavilion and get ready for the pitch - avail the biggest discounts on their favorite brands and products and enjoy cricket season like never before!