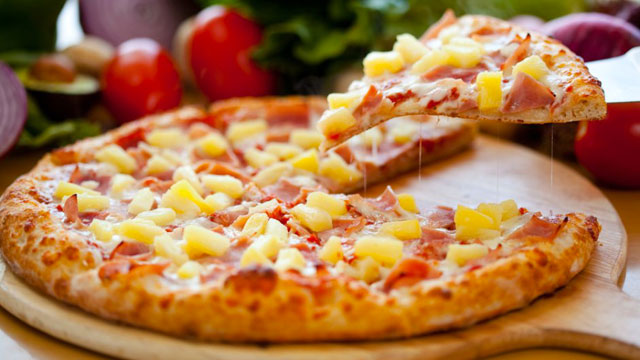 ---
Who could have thought that 'pineapple on pizza' could stir a monumental Twitter debate? Apparently people are quite sensitive about the subject.




Earlier this month, the president of Iceland nonchalantly said that pizza topped with pineapple should be banned. Little did he know that a debate of massive proportions was about to ensue.

The president's remarks went viral, infuriating fans of the Hawaiian pizza, whereas traditionalists, who find pineapple on pizza abhorrent, found a new hero in the president of Iceland. Coincidentally, the comments led us to the discovery that the Hawaiian pizza was actually invented by a Canadian.


It's savoury, it's sweet – Canadian invention #pineappleonpizza can't be beat 🍍+ 🍕= 😊 pic.twitter.com/GDHRZU0rXQ

— Canada #StandWithUkraine🇺🇦 (@Canada) February 22, 2017


Hence Canadians had much to say about the inflammatory remarks.

Here's what went on Twitter:

Some Canadians took it personally

https://twitter.com/jasonlamb/status/834499843246678021

https://twitter.com/EveForster/status/834410620162338817

This person saw Canada in new light

https://twitter.com/delicateloves/status/833093024729153536

Apparently, you need to be intelligent to like pineapple on pizza

https://twitter.com/terminaIIychilI/status/834539391242510336

This person makes a valid point

https://twitter.com/ellliot_wood/status/834419312106561538

This user think it's just sad


Pineapple on pizza #TellASadStoryIn3Words

— junior (@juniorvlrl) February 22, 2017


You're a child if you...

https://twitter.com/toniberthiaume/status/834494705345904641

This user is up for a fight

https://twitter.com/Luke5SOSloljoke/status/834895432970985472

This person has trust issues

https://twitter.com/l_ahrens21/status/834972282233618432

Believe it or not some people love pineapple on pizza


I like pineapple on my pizza. There, I said it. ¯\_(ツ)_/¯ 🍍🍕#pineappleonpizza

— Sophie Lui | 呂婉謀 (@sophielui) February 22, 2017
The best thing about pizza is the pineapple #pineappleonpizza

— Martha Campbell (@martha_bean) February 19, 2017


https://twitter.com/Wendilin_M/status/831456538803924992

And finally, the man behind it all, the person who invented the pineapple pizza Sam Panopoulos had one simple message for the Iceland's president: "He should know better." He relayed to CBC

Iceland's president, Guðni Th Jóhannesson, later clarified his position on the subject. He said:

"I like pineapples, just not on pizza. I do not have the power to make laws which forbid people to put pineapples on their pizza. I am glad that I do not hold such power. Presidents should not have unlimited power." However he recommends seafood for pizza.
COMMENTS (1)
Comments are moderated and generally will be posted if they are on-topic and not abusive.
For more information, please see our Comments FAQ