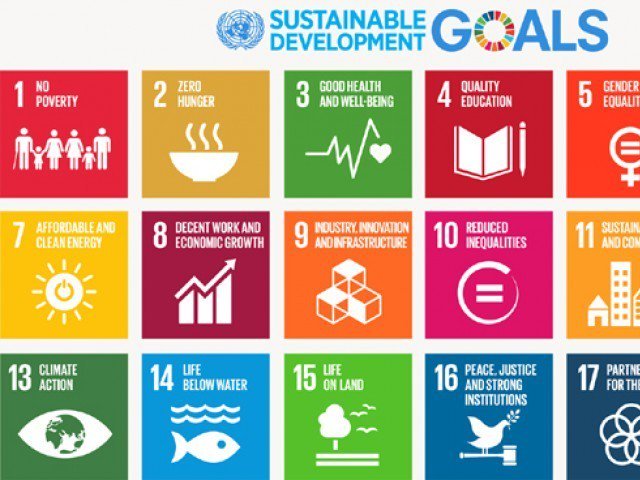 ---
KARACHI: One would certainly be surprised to know how Sustainable Developmental Goals (SDGs) could be achieved through an art competition. But it seems a movement is afoot for this very purpose in Pakistan.

A joint venture which started in November 2016, Islamabad, has now embarked on a greater journey.

Benedikt Hurzeler, the deputy director for cooperation at the Swiss Agency for Development and Cooperation (SDC) in the Swiss Embassy, stressed the dire need for this project.

"We the Peoples, We the Arts is an art competition which aims to involve young artists in promoting the SDGs through visual arts," Hurzeler says.

The programme was first launched in 2016, involving students from art schools across Pakistan. These students produced sculptures, paintings and miniatures highlighting the theme of Zero Hunger, the second of the 17 goals underlined in SDGs.

Of those who participated, 23 finalists participated in an award ceremony in Islamabad in November 2016.

But how did this idea spring up?

Vittorio Cammarota, Director United Nations Information Centre, in Islamabad explained that the SDGs are the global blueprint for development for the next 14 years.

"Their promotion among Pakistani people is a top priority," said Cammarota. Hence a joint venture between SDC and UNIC was forged.

According to Hurzeler, the project came into being after SDC marked its 50th anniversary in Pakistan in 2016.

"[SDC] management decided to celebrate this through an innovative project involving young Pakistani people," Hurzeler said.

"The two organisations came together with an innovative idea to promote the SDGs while empowering young Pakistani artists and providing them with an unprecedented opportunity to gain visibility with international contemporary art experts," notes Cammarota.

With the Zero Hunger theme set, Cammarota said that it was time to rethink how we grow, share and consume our food.

Hurzeler said that their aim remains to empower young, emerging Pakistani artists by providing them with platform to showcase their artworks within and outside Pakistan and at engaging them directly with communicating development issues while promoting knowledge of the SDGs.

Swiss Consul General Philippe Crevoisier, based in Karachi, said they were motivated motivation to put in their best possible efforts to create awareness about a global challenge as significant as food security.

"I am happy to share that through this first-of-its kind exhibition, young and dynamic Pakistani arts students from various public and private universities in the country got the exposure to showcase their creativity to the international world, through prestigious institutions like Art Basel, Hong Kong. I am glad that Switzerland took the lead in this project.

However, the Swiss diplomatic mission is currently uncertain about plans for the competition this year.

Published in The Express Tribune, February 24th, 2017.