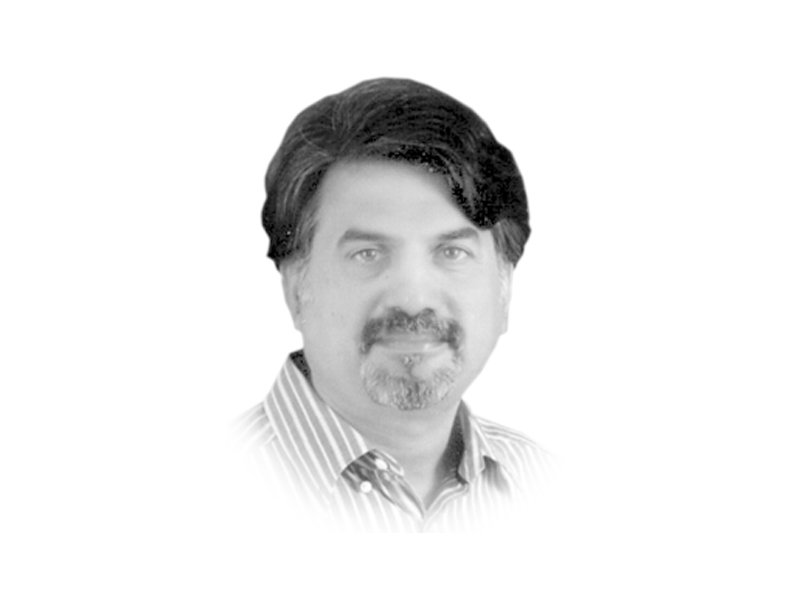 ---
Just one week after a suicide bomber blew himself up and killed at least 88 people at the Lal Shabaz Qalandar Shrine in Sehwan the military in Pakistan has announced the launch of "Operation Radd-ul-Fasaad". An operation designed to clean up society from the (existential threats) enemies that are attacking its unity and integrity, creating differences (religious, sectarian) and disputes (political and social through violent means) within it and challenging its very right to exist. Has this not been vowed and tried before by the State? What makes the current military operation different from others that the military had launched before?

There is little doubt in the minds of most of the security analyst that the current rise in the violent actions (suicide bombings) in Pakistan is linked to the announcement of holding the final of PSL (Pakistan Super League in Lahore). Lahore was the first city that appeared as a target on the radar screen of the terrorists and since then the upsurge in the suicide attacks that we have witnessed has engulfed the entire country.

Ironically, the cost in terms of causalities at Lal Shahbaz Shrine suicide bombing was quite similar to the one at APS Peshawar (145 people were killed including 132 schoolchildren) that took place on 16 Dec 2014. Like Operation Radd-ul-Fasaad the (military sponsored and suggested) National Action Plan (NAP) was also announced just days after the cowardly incident at APS Peshawar. On that occasion PM Nawaz Sharif chaired the all political parties conference and in a rare show of political consensus it was decided not only to set up military courts but also undertake a number of military and non-military activities to tackle the problem of terrorism in this country — the announcement of initiation of NAP was made personally by PM Nawaz Sharif in a countrywide televised address to the nation. Announced under a familiar condition of national vulnerability — NAP demonstrated political ownership whereas Operation Radd-ul-Fasaad is completely devoid of it — not because the ownership is not there but only because the government has lost its credibility (Panama Leaks case about to reach its logical end) but also the legitimacy (cabinet ministers of the government busy defending the PM and his family) rather than attending cabinet meetings to review the fast deteriorating security situation in the state. In short, a government and its ministers that were fast losing face have (without anyone noticing) ceded the civilian authority and control to the military — at least that's what the unilateral (and without any political involvement) announcement of Operationa Radd-ul-Fasaad suggests.

The core aim of Operation Radd-ul-Fasaad it appears is — eliminating residual (giving an impression that the major threat has been neutralised) and latent (yet not discovered) threat of terrorism; ensuring security of border; countrywide de-weaponisation and explosive control and pursuance of NAP. In the two years that we have had NAP, what NAP has underachieved has been debated more than what it has actually achieved. The failure of NAP it seems was not at the level of policymaking but more in its (lack of) implementation. Any national security strategy whether military or political is aimed at making not only a country safer but also making the strategists (military as well as political) accountable to the people (Especially when they are explicit strategies aiming to deliver results in explicit time frame). Is there a precedence in our country in making our leadership accountable for making the poor strategic choices that they made? (Kargil Operation, reluctance to undertake North Waziristan Operation) and have our policy preferences been consistent and in line with the interests of our State? (we are fighting war on terror for the last 15 years and the number of terrorists re-emerging seem to be more than the number we seem to eliminate). Do we follow through on the strategic choices we make (lack of implementation- NAP)? If we cannot honestly answer these questions and don't commit not to repeat the same mistakes I am afraid the responsible end that we seek to this war on terror will keep eluding us and the military operations like Radd-ul-Fasaad may only bring a decent interval and momentary containment but not the satisfying end to this existential threat that we face.

At the heart of launching of Operation Radd-ul-Fasaad is the military belief that unless the military undertakes an offensive military posture the current wave of terrorist acts inside Pakistan will not recede but increase. Given this belief it has decided to employ the complete power potential at the disposal of the State to eliminate this threat. As this operation gets launched our relationship with our neighboring country Afghanistan also seems to be entering a new phase. Afghanistan is the country (from) where India and Pakistan fight — an irregular war out of the worldview and which both don't own.

Some of the "Indian specific" attacks in Afghanistan include 2008 car bombing in Indian Embassy in Kabul in which 60 people died. It was again retargeted in October 2009 in which 17 people died. In February 2010 terrorists attacked Arya Guest House in Kabul killing nine Indian doctors. In August 2013 Indian consulate in Jalalabad was attacked resulting in 10 causalities. Three days prior to the inaugural ceremony of Indian Prime Minister Narendra Modi the Indian consulate in Herat was attacked (23 may 2014). In Jan 2016 the Indian consulate in Mazar e Sharif was attacked. Who carried out these attacks and many others that targeted Indian interests in Afghanistan is unclear (though India as well as Afghanistan blame the TTP having sanctuaries on Pakistan side of the border or members of Haqanni network to have undertaken these attacks) what is clear is that in the gruesome terrorist war being fought across the Durand Line besides the huge fatalities of the innocent people the other fatality has been the 'unspoken and untold truth'. Had the Indian Embassy and its consulates been only furnishing Indian visas to thousands of Afghanis that visit India every year (none of whom indulges in any terrorist activity in India) would they merit such violent reaction and an unwelcoming fate?

Pakistan military's desire of "a less threatening Afghanistan to Pakistan" is at cross-purpose to the Indian desire that purposely seeks to infuse anti-Pakistani sentiment in Afghanistan. The risky and deep engagement strategy of sponsoring terrorism in Pakistan by the Indian diplomatic outposts in Afghanistan has failed to block one important dimension of the risk it is taking — consequences. In its attempt to defend itself Indians have most gladly chosen the policy option of threatening and targeting Pakistan through the western border and the negative consequence of such a covert policy has only been to turn possible threats (TTP, Haqannis) into real ones.

India by executing its anti-Pakistan agenda through Afghanistan is doing everything in its power to deny, delay and deprive Pakistan and its people of the right to life, liberty and pursuit of happiness. This only because India is a hegemonic regional power and it cannot accept a country like Pakistan to continue to highlight to the international audience the atrocities that its occupying force commits on the people of Kashmir.

Through the launching of "Operation Radd-ul-Fasaad" the military has sent a clear message to its enemies that when attacked it will further shield rather than lower its guard. The country may experience political turbulence in the coming weeks but the military remains at the centre stage of the power equation in this country — always and forever committed to safeguard and secure the interests of the nation-state.

Published in The Express Tribune, February 24th, 2017.

Like Opinion & Editorial on Facebook, follow @ETOpEd on Twitter to receive all updates on all our daily pieces.