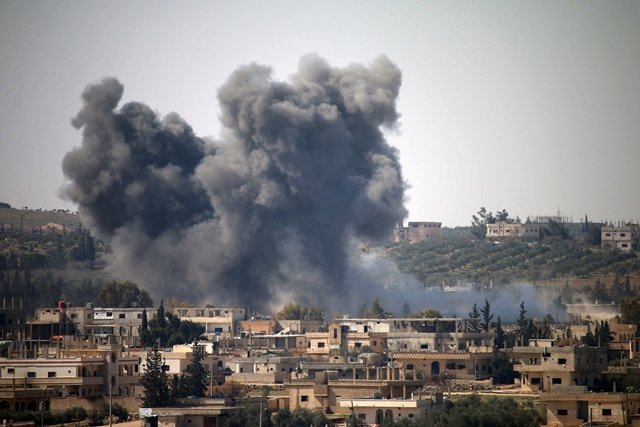 ---
BEIRUT, SYRIA: The bodies of some 130 fighters shot execution-style or beheaded by rival militants have been found in mass graves in northwestern Syria, a monitoring group and rebel sources said Thursday.

The grim discovery comes nearly a week after clashes in Idlib province between the militant Jund al-Aqsa rebel group and Al-Qaeda's former Syrian affiliate and allied factions.

At least 131 bodies were found on Wednesday and Thursday in two separate mass graves near the town of Khan Sheikun, said the Syrian Observatory for Human Rights.

Some had been shot and others beheaded.

Turkish military says 56 Islamic State militants killed in Syria

Last week the bodies of 41 rebel fighters had been found near the same town, said the Britain-based monitoring group.

Observatory director Rami Abdel Rahman said Jund al-Aqsa had detained the fighters and then "executed" them.

Mohammad Rashid, a spokesman for the rebel Jaish al-Nasr group, also reported the deaths but put the number of bodies found at 128.

According to him, 71 of those killed were fighters from his group.

"Three citizen journalists and 11 commanders were among them," said Rashid.

A source from the civil defence also reported that 128 bodies had been recovered from two graves inside a former army barracks that had been occupied by Jund al-Aqsa.

Jund al-Aqsa, which is considered close to the Islamic State group, is reviled by most rebels in the region and is designated a "terrorist group" by Washington.

Earlier this month, Jund al-Aqsa had been locked in clashes with Fateh al-Sham, the former Al-Qaeda affiliate in Syria, after tensions over influence in Idlib, a province held by rebels.

Syria's Assad dismisses Amnesty report on mass hangings

Fateh al-Sham was fighting alongside several allied groups in a coalition dubbed Tahrir al-Sham, and the battles spread beyond Idlib to neighbouring Hama province.

According to the Observatory, Jund al-Aqsa fighters have pulled back to Hama and to other areas.

More than 310,000 people have been killed in Syria since the conflict began in March 2011 with anti-government protests.

The war has become a complex multi-front conflict, drawing in militant groups and international armies.