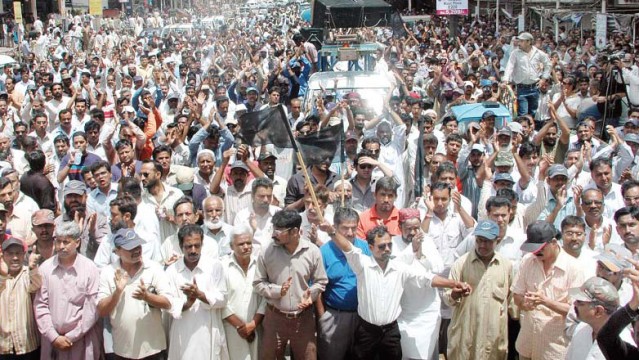 ---
KARACHI: The Sindh High Court (SHC) has restrained till May 24 the labour unions of the Karachi Electric Supply Company (KESC) from calling for strikes and creating industrial unrest by holding protest demonstrations.

PPI reported that a division bench, comprising Justice Gulzar Ahmed and Justice Shahid Anwar Bajwa, also ordered the Sindh Home Secretary and Capital City Police Officer Karachi to ensure that this order is followed. KESC approached the SHC through its director of industrial relations against four labour unions that have been patronising agitation and protests for officers and engineers who were recently sacked. He urged the Sindh Chief Secretary, Home Secretary, CPO Karachi, National Industrial Relations Commission, Employees Union, Democratic Mazdoor Union, People's Workers Union, United Workers Front and KESC Employees and Officers Association to be included as respondents in the case.

KESC's lawyer contended that when it was undergoing re-organisation, its management ended the services of 294 officers and engineers. They challenged this in the SHC. He alleged that despite going to court these people were causing serious industrial unrest by employing the services of the five labour unions, which were non-CBA as collective bargaining agents. He stated that the agitation was of such a nature that regular employees or officials were not being allowed by the protestors to enter their offices and their vehicles were being detained. Since the Industrial Relations Act 2008 was no more in force and had lapsed on April 30, 2010, the petitioner had no other remedy but to move the court.

He prayed the court to restrain the sacked employees and labor unions from holding strikes, slowdowns and protests. He asked that they be stopped from harassing utility officers, employees and customers. After the preliminary hearing, the SHC division bench ordered that notice be issued to the respondents, the Deputy Attorney-General and Advocate-General Sindh, for May 24. Till then, the respondent labour unions will be restrained from agitating.

DAY 8 of the protest

Earlier in the day, the protest continued. The entire city of lights might be put out if KESC does not restore the 294 sacked employees, warned a KESC joint action committee on Friday. Employees continued protesting on the eighth day in a row. The Muttahida Qaumi Movement's provincial minister, Khalid Umer, addressed the demonstrating employees, telling them that his party would try its best to get the employees reinstated. "We will shut down all grid stations in the city," leaders of the action committee said. They promised to continue protesting on Saturday as well.

Protesting residents

Meanwhile, as KESC employees protested against their department, people in Paposh Nager were up in arms against the company. Residents took to the streets to protest three-day-long power outages. During the two-hour long protest, people shouted slogans against the KESC and burnt tyres near the Chandni Chowk, causing traffic jams. They said that electricity has been suspended in their area for the past three days, which has also created a water shortage. KESC has not restored their power despite a multitude of complaints. Protestors dispersed after a two-hour negotiation session with police and Rangers.

Published in the Express Tribune, May 15th, 2010.
COMMENTS
Comments are moderated and generally will be posted if they are on-topic and not abusive.
For more information, please see our Comments FAQ