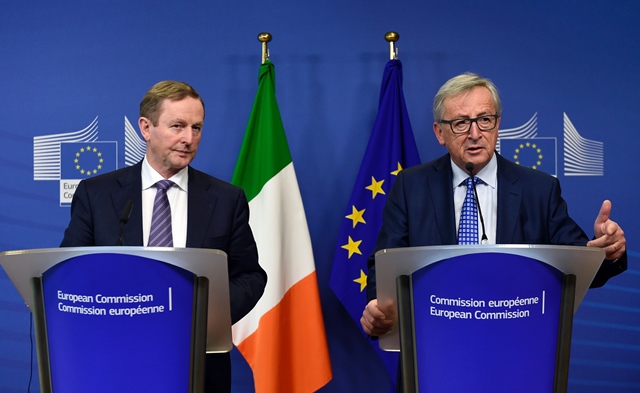 ---
BRUSSELS: The EU does not want Brexit to result in the return of fixed border controls between Ireland and British-controlled Northern Ireland, European Commission head Jean-Claude Juncker said Thursday.

"During the Brexit negotiations, the EU and Ireland must work together to minimise the impact," Juncker said after talks with Irish Premier Enda Kenny in Brussels.

"We don't want hard borders between Northern Ireland and the Republic" of Ireland, he said.

Ireland is set to be the only EU country to share a land border with Britain after Brexit, fuelling concerns in Dublin about the implications for trade and security.

During the troubles in Northern Ireland, the border was festooned with military outposts and controls which were later removed as part of the 1998 Good Friday peace accords.

British EU residents concerned about Brexit's impact - survey

Kenny said Dublin was very concerned by the implications of Brexit and wanted "the closest possible relationship between the UK and the EU."

"There should not be a return to a hard border and there won't be," he said.

Kenny also said Ireland wanted the language of the Good Friday Agreement, which has international status since it is lodged at the United Nations, to be included in a Brexit settlement.

"We do not want to see the Good Friday Agreement damaged in any way," he said, citing provisions on Northern Ireland's right to decide its own future, including reunification.

UK government Brexit paper stresses May's priorities

For his part, Juncker said the peace deal was "an important agreement ... the Irish and British have worked hard to have it and in no way should it become under risk."

Northern Ireland voted to remain in the European Union in the June Brexit referendum but it has no separate say in its future with Brussels.

British Prime Minister Theresa May is expected to trigger Article 50 negotiations by the end of next month, triggering two years of what promise to be difficult and complex negotiations.

Kenny and May have said previously they, too, do not want a return to the fixed border between the two major trading partners.
COMMENTS
Comments are moderated and generally will be posted if they are on-topic and not abusive.
For more information, please see our Comments FAQ