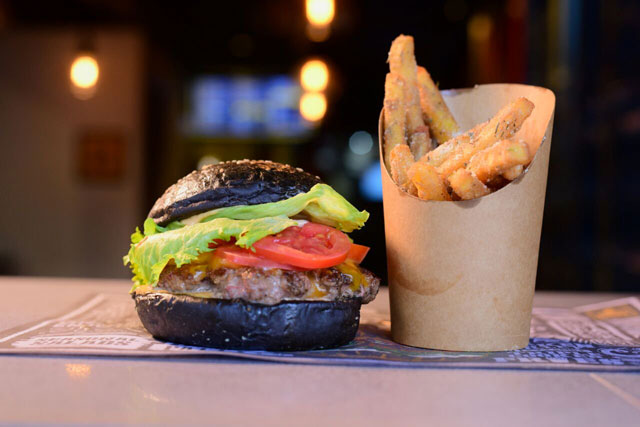 ---
It's safe to assume that people in Islamabad have a thing for burgers. Whether it's beef, chicken or a beasty double stacker, this comfort food is getting more popular by the day and is here to stay! And yes, this is precisely the reason why burger joints are sprouting in every corner of Islamabad like there's no tomorrow.




The latest burger joint to have stirred Islamabad's food scene is Street Burger -- partly because of its location in Beverly Center, the hub of all things yummy in Islamabad and partly because they have introduced the concept of black buns in Pakistan. The project is the brainchild of two couples, Samreen and Ahsan Bhatty and Sofia and Ali Umar Alvie.




Game of Thrones-themed café opens in Islamabad

Speaking to The Express Tribune, Sofia Ali said Street Burger began as an attempt to remove all the frills and mess from the fast food-popularised hamburger, and focus on the meat because that's what truly matters. "We believe the highest quality and most hygienic food tastes the best and thus ensure that our beef is always fresh and our patties are cooked on a mirror chrome finish flat griddle plate as opposed to a conventional char griller, which helps lock in the taste and moisture. We have imported our cheese from the best dairies in the world and our buns are produced in house with the highest quality ingredients," she said.

Quality – 3.5/5

Knowing all of this, it's inevitable that one goes in with high expectations and Street Burger manages to meet those.

We tried the Mexican Chicken Burger, which was a delight for the taste buds. Essentially, this burger has an herbed thick chicken patty topped with salsa, a slight tinge of sour cream and hearty covering of American cheddar sandwiched between a delicious bun.

Interestingly, Street Burger also offers a slider platter, which has three mini burgers – the Street Burger, the Mushroom Cheese and the Chicken Cheese. This is the perfect addition for those who want a taste of three burgers but have an appetite for one.




If you ask a real burger connoisseur, they would tell you straight up that true burgers are only beef burgers, and anything else is a joke. And if you try Street Burger, you would probably start believing them too. This one has a thick beef patty topped with lettuce, tomatoes, American cheddar and a secret sauce sandwiched between a sesame seed ebony bun. For those who have a bigger appetite, the Double Stack beef burger is also an option.




We were a little scared to try the Egg in a Hole burger so we decided to opt for the Roast Beef Sandwich which has roasted tender beef topped with mustard and crunchy salad leaves packed in a sandwich bun.

My friend who has lived in the US and survived on the Philly Cheese Steak Sandwich for two years was a little disappointed when she tried it at Street Burger. She couldn't pin point what was lacking but mentioned that it still needed work to match the level of the true American version.

Karachi's top 10 restaurants, according to TripAdvisor

Oh and if anyone is fond of onion rings, Street Burger is the place to be. Man, do they know how to do their onion rings or what? We haven't tasted better onion rings anywhere in Pakistan and trust me we have travelled far and wide for them. Crispy, thick and just plain huge, these onion rings will leave you craving another serving. Sadly, they don't come with the burgers and you have to order them separately but they are definitely worth the extra side order.

The only downside to this eatery is that Street Burger has a restricted menu which comprises of 12 flavours of burgers, a few seasonal salads and a limited range of desserts. Speaking of which, they have a Ferrero Rocher cheesecake which is delicious and crunchy and everything you would want in a cheesecake!




Street Burger is a little on the pricier end if you compare it to a plain old fast food joint but pretty much as expensive as any proper restaurant in town.

Atmosphere – 4/5

Street Burger has a very different burger joint look. For starters, they have beautiful graffiti wall on the outside with a seating area and it's the perfect backdrop to enjoy a meal or click a few pictures. The space indoors is compact but nicely designed. They have an open kitchen and a very vibrant feel inside which makes the young ones feel right at home.

Service – 2.5/5

Service is probably the one area in which Street Burger needs to up their game. On our visit, we felt like the waiters were a little lost but the manager made up for it by going to every table just to ask how the meal was. We just wish he had waited until we had finished our burgers. Who wants to talk while eating a burger? It's serious business, and at times messy too.

Verdict – 3.5/5

Street Burger is the place to go, if you want a taste of a true American burger. It's a blend of Five Guys and Shake Shack and in our opinion they're doing a great job!