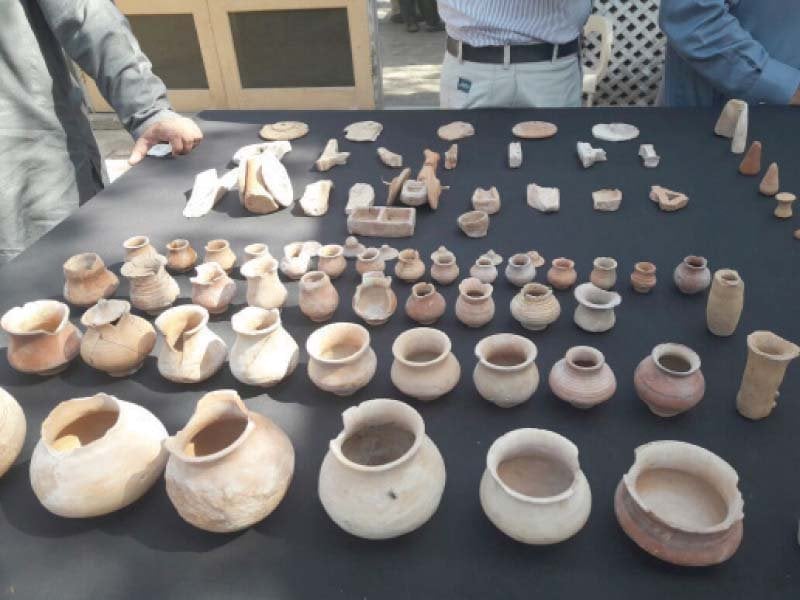 ---
KARACHI: New artifacts and structures excavated at the Chanhu Daro archaeological site in Sindh's Benazirabad district paint the image of an ancient industrial centre which supplied terracotta products to major urban centres of the Indus Valley Civilisation, including those at Mohen Jo Daro and Harappa.

On Wednesday, the archaeologists working at the site thought to be at least as old as Mohen Jo Daro displayed artifacts they have discovered. Excavation began a month ago under the supervision of Aurore Didier, the head of French Archaeological Mission in Pakistan, and was carried out by students from various universities of Sindh.

French team continues excavations at Chanhu Jo Daro

"A large number of beads, bead-blanks, and bead-drills, as well as a substantial number of toys suggest that Chanhu Daro may have been a manufacturing site during the Harappan period," archaeologist and antiquities  expert Kaleemullah Lashari said, referring to the peak of the Indus Valley Civilisation from around 2600BC to 2000BC. He said archaeologists have found the remains of pottery factories at the site in addition to that of houses and a drainage system.

"It appears that this city was an ancient industrial hub for pottery from where various terracotta products were supplied to other places," he told The Express Tribune. "It definitely appears to be a contemporary of the Mohen Jo Daro settlement. Perhaps it even predates it," Lashari said, adding that the antiquities uncovered at Chanhu Daro bore resemblance to those found at Mohen Jo Daro and Harappa.

Speaking to reporters, Sindh Culture Minister Sardar Shah – who was present at the archaeological site with France's Consul General Francois Dall'orso and was briefed by archaeologists – said three mounds at Chanhu Daro were surveyed and excavated. According to archaeologists, these mounds revealed the site was occupied at various stages by the Amri, Harappa, Jhukar, and Jhangar cultures.

Located 80 miles south of Mohen Jo Daro, Chanhu Daro was first excavated by Nani Gopal Majumdar in March, 1930. Between 1935 and 1936, British archeologist Ernest J H Mackay led an expedition to Chanhu Daro sponsored by the Museum of Fine Arts in Boston and the American School of Indic and Iranian Studies.

'People in Indus Valley Civilisation exploited, used fuel resources'

Several artifacts, including seals, pottery shards and a human skeleton, were found discovered at the site and Mackay's findings were published by the American Oriental Society in 1941. Objects Mackay found are housed at the University Of Pennsylvania Museum Of Archaeology and Anthropology, and the Museum of Fine Arts in Boston.

Sources in the archeological department said Chanhu Daro is currently spread over 12 acres and the land around it has been occupied by people who are using it for cultivation. "It has not yet been declared a protective site. The government should erect wall around it and depute guards," an archaeological department official said.

During his visit, Culture Minister Shah said his department would not only build a wall but also a museum and road at the site.

Published in The Express Tribune, February 23rd, 2017.
COMMENTS (1)
Comments are moderated and generally will be posted if they are on-topic and not abusive.
For more information, please see our Comments FAQ