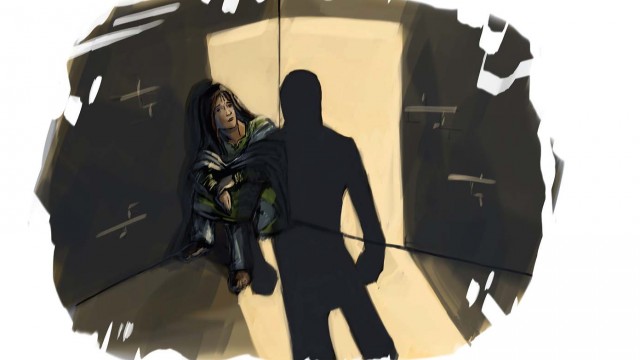 ---
KARACHI: "It's hard to define happiness," is 25-year-old Zarina's response when she is asked if she is happily married.

"Society is satisfied that I have 'settled down' but my husband still hasn't made peace with what happened." A resident of Shah Latif Town in Karachi, Zarina was raped by the principal of the school where she was teaching. The incident took place in 2003 and two years later her mother arranged her marriage so she could start living a stable life again.

However, contrary to her mother's expectations, marriage did not improve Zarina's life much. "We had to tell my husband about what happened because it would have been worse if he found out about it through someone else," Zarina says. The news of the rape had spread in the neighbourhood after her family registered an FIR against the accused, Hafiz Ashraf. The case was also reported in the media. "There was no way I could lie about my past." Ashraf was immediately arrested and imprisoned and he later died in custody.

Although Zarina is relieved that justice was served in her case, her ordeal has not ended: "There is always someone to remind you about your past," she says. She and her husband decided to move out of her in-laws house only a month after their marriage as one of her sistersin- law continuously taunted her about having been raped. Five years into her marriage and now the mother of a child, Zarina says that there isn't a single day when either her husband or her in-laws don't accuse her of having walked into her marriage with a 'sullied' reputation.

In fact, Zarina doesn't see the marriage lasting very long. Soon after she married him, Zarina's husband asked her to take up a job and support him financially. However, she quit after working for a year at a textile factory because her husband could not deal with her being out of the house for so long. "He would ask me strange questions, about who I interacted with and where I went. I couldn't put up with it because I could see my leaving the house was making him uncomfortable. So I decided to stay at home."

However, that too didn't help matters much and now that Zarina is at home, her husband spends most of his time either in his hometown in Punjab or at his mother's house in Karachi. "The few days he stays with me, he abuses me or threatens me with divorce," Zarina says. She says she can't walk out on her husband because she fears her mother won't take her back. "Every time I've tried to discuss leaving with her, she starts crying about how I've already destroyed my life and am hell bent on destroying my sisters' chances of marriage," says Zarina.

Another reason rape survivors have difficult marriages, according to Dr Diya Sahar, a clinical psychologist working with War Against Rape (WAR), is that most rape survivors resist sexual relationships. "This is something rape survivors will never admit," says Sahar. "They don't realise how their reluctance to enjoy sex can affect their relationship in the long term. That is when the husband usually starts reminding his wife of her past. "Lack of interest in any form of physical contact is a common complaint. This happens when rape victims suffer from low self-esteem."

Sahar also adds that in some cases the victims might react by indulging in unhealthy sexual behaviour. Sahar also narrates the case of an 11-year-old girl Navin, who was raped in 2004 by her neighbour in Khuda Ki Basti. Two years later she became involved in a relationship with her boyfriend, who she later married. However, the marriage was short-lived. Navin, who is Christian, "married a Muslim boy who converted her to Islam before marrying her, but within a week of their marriage, he began hurling abuse at her and they soon divorced," says Khalida Qadri, field officer in WAR.

Sahar says that "rape victims are always more prone to abusive relationships." Navin visited WAR for counselling for a few months till her family found another match for her from within the Christian community. They also withdrew their case against the accused, Naseem Masih, in return for Rs50,000 as compensation, part of which her mother used to pay for her wedding in Punjab. In Sahar's opinion, men find it particularly difficult to accept rape survivors as wives when the case has been reported in the media or when their immediate family raises objections. One such case is of Sadia, whose husband had requested her family to remain tightlipped about her ordeal as his family would otherwise never accept her as daughter-in-law. Sadia was repeatedly raped for three days by her foster brother at the age of 21.

"I also had to tell my husband the truth before our marriage but continue to pay the price of doing so," she says. Despite having two children and otherwise leading a happy life, she says that "intimate moments" are still tough to deal with. "He keeps asking me to compare our sex life with my ordeal," says Sadia, breaking into tears. It is the continuous mental stress many rape survivors undergo in marriages that makes lives worse after marriage for some of them. "As a result of this acute stress disorder, many rape survivors eventually become social recluse," says Sahar. "In such a scenario, marriage does not help overcome their trauma. It only increases it."

NAMES OF RAPE SURVIVORS HAVE BEEN CHANGED TO PROTECT PRIVACY

Published in the Express Tribune, May 15th, 2010.