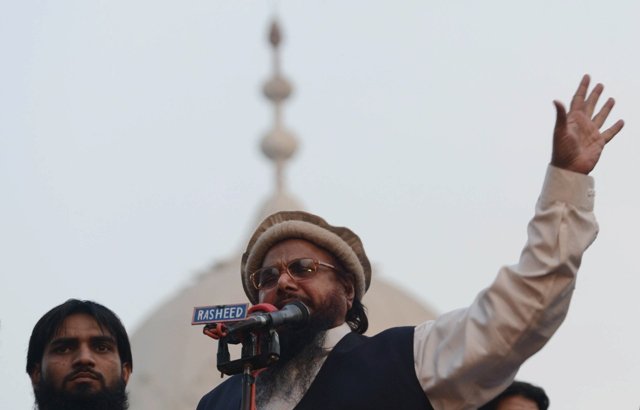 ---
LAHORE: A division bench of the Lahore High Court (LHC), on Wednesday, issued a notice to the Punjab Home Department regarding a petition challenging the detention of Jamaatud Dawa (JuD) chief Hafiz Muhammad Saeed and his four aides, and the placing of their names under the Fourth Schedule.

Headed by Justice Sardar Muhammad Shamim, the LHC's division bench, while directing the Home Department to submit its response by March 7, sought any material against the petitioners to justify their detention.

JuD chief challenges house arrest in LHC

The court's notice was issued a day after the JuD chief and his four aides moved the LHC, challenging their house arrests and being added to the fourth schedule. The JuD also challenged the interior ministry putting the names of 37 of its leaders on the Exit Control List (ECL). Saeed's detention came following Interior Minister Chaudhry Nisar Ali Khan's remarks that the government was taking steps to fulfil its international obligations regarding JuD.

On January 31st this year, the provincial government of Punjab had placed JuD chief Hafiz Muhammad Saeed and four other party leaders under house arrest after a letter was issued by the interior ministry. The said letter that was issued to the provincial government on January 29 said that as per the UN Security Council sanctions, the two organisations namely JuD and Falah-e-Insaniat Foundation (FIF), which is the public welfare arm of JuD, both have been put on the watch list and listed in the second schedule of the Anti-Terrorism Act.

The ministry of interior, on January 27, intimated that JuD and FIF are engaged in activities that could be prejudicial to peace and security, and are in violation of Pakistan's obligations to the UN Security Council Resolution 1267. A number of JuD and Falah-e-Insaniat Foundation pamphlets have also been made part of the petition which highlighted the organisation's volunteer work in different parts of the country, according to the notification putting them under detention. It has also stated its other philanthropic works including rescue work in the Mall Road suicide blast.

JuD requests Interior Ministry to remove Hafiz Saeed, 37 others from ECL

In 2008, India accused the JuD chief for masterminding the 2008 Mumbai attacks, bringing Islamabad and New Delhi to the brink of a war. At least 166 people including tourists were killed by 10 armed men who went on a rampage that included attacks on two luxury hotels, a Jewish centre, and a train station.

Saeed has repeatedly denied the allegations and has distanced himself from the Lashkar-e-Taiba (LeT), a banned militant group in Pakistan that India blames for the incident. Saeed was put under house arrest soon after the Mumbai attacks but was released on court orders in June 2009.