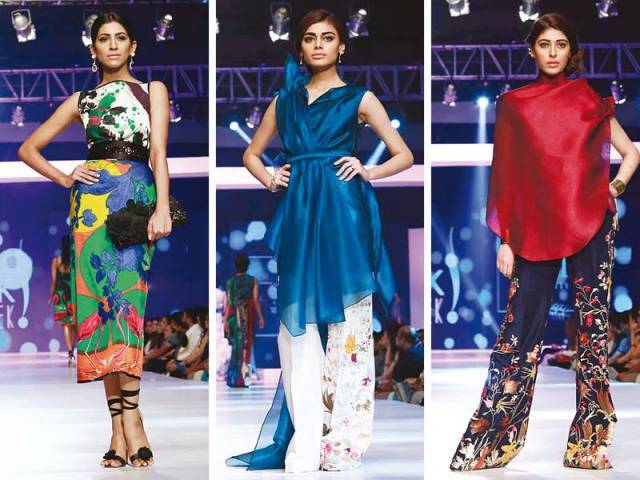 ---
KARACHI: Speaking of fashion game-changers, a couple forerunners jump to mind. Americans rightfully boast of Tom Ford and Alexander Wang. Karl Lagerfeld was another catalyst for change in the European world and  undoubtedly, we have an army of them in the West. But what does the Pakistani fashion industry comprise? Do we have what it takes to ignite a revolution?

Now this is where the Pakistan Fashion Design Council (PFDC) takes the spotlight. Distinguished for setting benchmarks in the fashion realm, PFDC is sparking a 'style uprising' by revising the upcoming fashion week's platform format. Being a fashion editor, I'm anticipating a highly conceptual show, focusing on a theme of sorts — both in terms of disposition and ensembles.

FPW 2016: Winning hearts, yet again

With my expectations soaring, The Express Tribune spoke candidly with Saad Ali, the CEO of the PFDC and Kamiar Rokni, the official PFDC spokesperson to feed us some fodder on what to expect.

"At the PFDC, evolution is at our core. The ultimate aim for our fashion platforms has always been the business of fashion. Keeping that aim in mind and the furtherance of it, we are trying to tale the platform to the standards and protocols of international fashion weeks," asserted Saad. And there's more: "The introduction of the new format breaks down the standard format of Fashion Week 'Days' into a set of solo or duo shows with two alternative ramps, more select seating and international protocols for the press and audience members," added Saad.

Apparently, the two ramps have been designed to facilitate two shows simultaneously, meaning when the show in Hall A ends, there will be a break so that designers and press have a chance to interact and the next show will then start in Hall B. Clarifying further, Saad explained, "With the new format in place we endeavour to enable a focused audience who is attending to see specific shows."

As to whether the fashion fraternity is supportive of this upcoming revival, Saad asserted, "It is a time of transition certainly, but the designers have welcomed it wholeheartedly — all in the spirit of evolution and a positive step forward."

Jogging away from the past concept of shows being merely spectacles of entertainment, there is now an international team on board to ensure an all-rounder expression of fashion. Saad explicated, "We are working collaboratively with our team of experts in Pakistan and our new UK-based team that excels in lighting, sound, set design etc. They bring with them international experience and exposure that we urgently needed."

What stood out at Fashion Pakistan Week

Divulging data on the aesthetic side of things at the 10th show of PFDC Fashion Week, Kamiar alleged, "The artistic aim is to create a more modern, international feel. We hope to give the shows a more individual outlook — this creates diversity in the presentation, as both spaces have diverse aesthetics, which is never a bad thing!"

Well known for being a mentor for budding talent, Kamiar gave us his take on the Bank Alfalah Rising talent that'll be showcased, and how it has reformed from what it used to be. "The main difference now with the Bank Alfalah-PFDC Rising Talent relationship is that the designers are presenting collections especially curated for the runway — as mentored carefully by Maria B and myself. Also, there's been a rigorous selection process to hand-pick this new talent," he assured. "The mentoring has been more intense this time around and we're hopeful to achieve fantastic results," Kamiar reiterated.

We hope too that we're in for an avant-garde surprise!

Have something to add to the story? Share it in the comments below. 
COMMENTS
Comments are moderated and generally will be posted if they are on-topic and not abusive.
For more information, please see our Comments FAQ