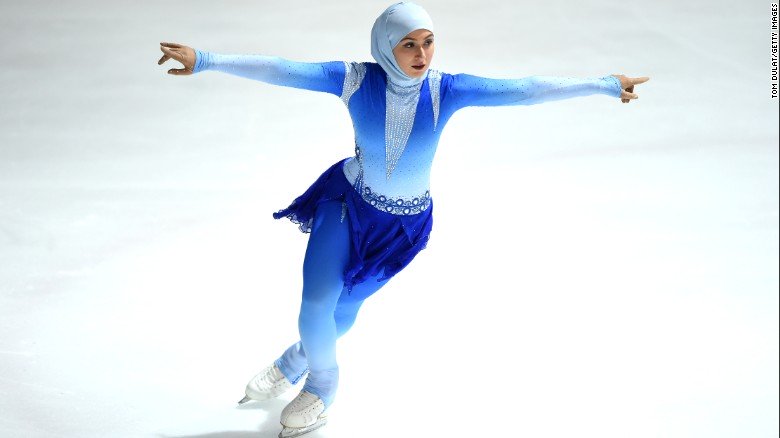 ---
"What will people say?" is a question women in the Middle-East  hear all too often. Anyone who tries to break free from the social concern automatically comes under scrutiny.
And if you're a woman trying to pursue a career amid rigid traditional gender roles, things can get much worse.
But it is exactly these trailblazing women, that sportswear giant Nike is trying to celebrate with its new viral campaign, reported CNN. The advertisement features five successful female professionals and everyday athletes from different parts of the Arab world.
One of the women featured in the campaign is Zahra Lari, the first female Emirati figure skater, fondly referred to as the "Ice Princess" of the UAE. "People think ice skating is like dancing in front of men, which is not acceptable," she said.
Zahra is now shattering all gender norms in her country, as well as how the West views women from the Arab world. "I am Muslim. I am covered. I am from a desert country but I am doing a winter sport and it's fine," added the sportswoman, who aspires to become a role model for persistence and stamina.
Other stars include Tunisian fencer and Olympics medalist Ines Boubakri, Emirati Parkour trainer Amal Mourad, Saudi singer Balqees Fathi and Jordanian boxer Arifa Bseiso.
According to Hina Rasheed, Nike's communication manager in Dubai, the company wanted the ad - narrated by Saudi actor Fatima Al-Banawi and shot in Dubai - to be as "local and genuine" as can be. "It aims to highlight the stories of amazing athletes to encourage and inspire others," Hina explained.
The video has already garnered 3 million views over social media in just two days and sparked a debate between those who find it inspiring and those who do not.
Thank you for this incredible art/ad/inspiration I'll show it to my two little girls today. #NIKEfamily

— adnaanmuslim (@adnaanmuslim) February 19, 2017
"Instead of promoting its products in a professional way, Nike replaced it with an anti-hijab ad. Leave your hijab at home and jog in the streets," claimed on user on Twitter.
But Rasheed maintained that Nike wanted to "use the power of sport to change society positively."
Watch the full video here:
Have something to add to the story? Share it in the comments below.