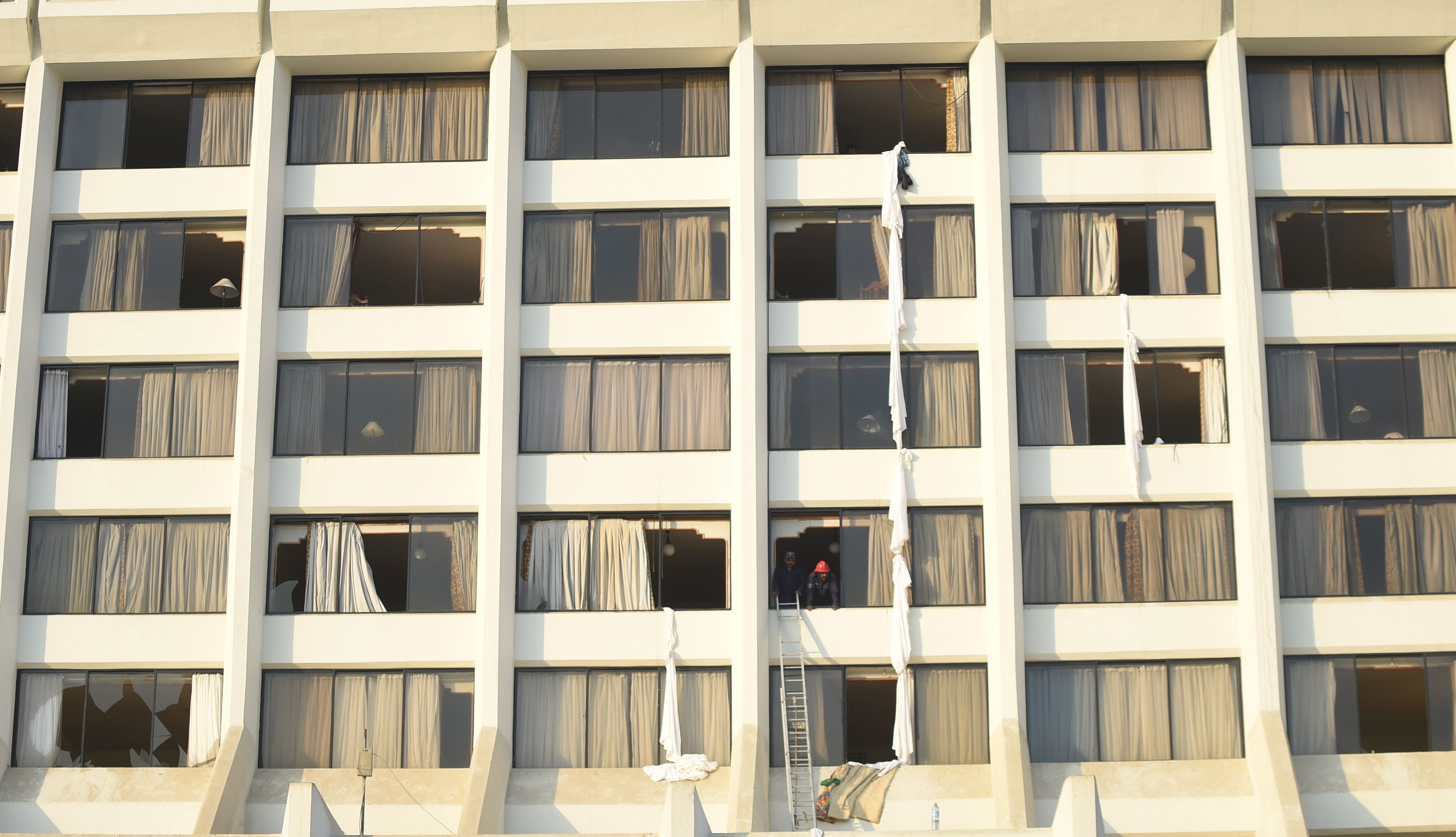 ---
KARACHI: In case of a deadly blaze, Karachi, a city of 22 million people, will be at the mercy of an ill-resourced emergency response system, an apathetic building control authority and an incapable Civil Defence department.

Regent Plaza hotel's deadly blaze followed a huge fire that gutted a warehouse in SITE area last week and another in Gulshan-e-Iqbal on Tuesday, yet again laid bare the plight of Karachi's ability to fight the fire. What emerged during these recent incidents in the city is that there isn't any one department to look after fire-related incidents.

Fire regulations

According to fire laws expert Shariq Ali, these laws are in bits and pieces. The passive fire laws, he said, are to be looked after by the Sindh Building Control Authority (SBCA) while any building is under construction. The laws are provided under the SBCA's Karachi Building and Town Planning Regulations, 2002.

Also, he said, the fire department of the Karachi Metropolitan Corporation (KMC) has to certify the buildings' fire safety precautions. Meanwhile, the Civil Defence department has to conduct inspections regularly.

KMC receives two fire trucks from Japan

None of these departments are abiding by their own bylaws or even coordinating with each other leaving the citizens out on a limb.

Stand pipes

According to the SBCA bylaws, all the buildings that are ground-plus-three storeys or above, or more than 43 feet, should be provided a set of standpipes system, which should be installed in a vertical position to which fire hoses can be connected, allowing manual application of water to the fire, said NED University earthquake engineering department chairperson Dr Muhammad Masood Rafi.

Every standpipe should be equipped with a fire department-approved inlet connection of corrosion-resistive metal. Rafi explained that the fire tenders have to make rounds of nearby Karachi Water and Sewage Board's water hydrants to get their tanks filled in case of a fire. Whereas ideally, he said, there should be tanks within the buildings specifically to provide water to fire trucks.

According to him, the fire department must show a list of how many inlet pipes they have approved so far. "They don't even correspond with the SBCA on this," he said.

KMC's chief fire officer Tehseen Siddiqui responded that not once in his 20-year career has he seen any map of any building of the city being approved with their consent neither has anyone approached his department for approval of inlet pipes.

For the recent deadly blaze in Regent Plaza hotel, the chief rescue officer of the KMC, Muhammad Feroz, told The Express Tribune that there wasn't any water tanker available in the hotel from where we could get the water to extinguish the fire.

Automatic sprinkler system

The bylaws further call for installation of automatic sprinkler systems in every institutional building that serves restrained or handicapped persons, in covered car parking areas in buildings, in bus garages or terminals for passengers serving more than four buses at a time, on each floor of industrial buildings that are more than one-storey high, in all the building compartments used for manufacture, display or sale of combustible material and products that are more than 7,000 square feet, in all the building areas used primarily for storage of goods, which are more than 1,000 square feet.

Also, the bylaws say that the automatic sprinkler system should be fed by an overhead water tank reserved solely for this purpose and the tank should be capable of supplying 25% of the sprinkler heads for 20 minutes.

Talking about this, Rafi said that hardly any building of the city follows this instruction. "God knows how they get approval from the SBCA," he said.

KMC council passes resolutions on revised budget, LG powers, others

Manual fire extinguisher

One manual fire extinguisher should be provided in each 2,400-square-foot area of public assembly buildings, said Rafi, adding these include wedding halls and any kind of enclosed area where public gathers. Also, the bylaws say that at least one extinguisher should be available on each and every floor at stairway landings and in corridors at each lift or group of lifts in residential and commercial buildings.

Interior fire alarm

An interior fire alarm system should be installed in hotels, motels and dormitories higher than one storey and with a capacity of 50 or more occupants. All kinds of hospitals and institutional buildings accommodating more than 20 occupants above the ground should also have an interior fire alarm system. Also, all school buildings with a provision of more than 30 students above the ground floor, mercantile buildings, factory buildings and cinemas, theatres and similar public assembly places should have this alarm system installed.

Signal stations

According to Rafi, the buildings must have signal stations, which must be connected with the nearby fire stations that would in case of a fire alarm the fire stations through signals.

To this, Siddiqui responded that they do not have any such facility and, in most of the cases, they come to know about the fire outbreak through the media.

Fire resistive structural requirements

The bylaws require all kinds of buildings to have fire resistance structures as specified in the bylaws for buildings of different natures. Rafi said fire can make any building collapse and these bylaws require them to ensure that the structure should be able to resist the fire for a certain amount of time.

The wall should be constructed with non-combustible material, said Rafi. Every floor of a building should be divided in compartments by means of appropriate fire resistance. Rafi explained that the fire must be contained inside the room where it breaks and must not be able to spread.

Protected shafts

Protected shafts should be constructed only for stairway lift, chute, duct or any other purpose that enables people, things or air to pass between different compartments. For this, Rafi explained that the smoke must not get trapped inside the building and should move out through these shafts. The air-conditioning ducts, he said, should also be protected from the fire entirely.

No mention of fire exits

Ironically, the bylaws say nothing about fire exits, pointed out Rafi, adding that this is one of the major loopholes in the bylaws. According to Feroz, in the Regent Plaza fire, there wasn't any ventilation system in the hotel, which was why several guests died due to suffocation. Even the fire exit passages, he recalled, were filled with smoke.

According to Siddiqui, barely a fraction of the buildings in Karachi follow the bylaws. One per cent of the factories in the city would have fire extinguishers, he estimated. "They use old methods of extinguishing fire through buckets of mud," he laughed.

Civil defence laws

According to a 2014 notification issued by the then District South deputy commissioner (DC) Mustafa Jamal Kazi, and Korangi DC Zubair Ahmed Channa, all industrial units were asked to implement the prescribed fire fighting arrangements and associated protective measures falling under rules of the Civil Defence Act 1951 within 15 days.

These units were supposed to set up their own civil defence organisation, establish a fire fighting squad and obtain necessary training from the provincial Civil Defence Department. All factories and commercial units were also asked to establish a 'warning system' and provide adequate 'means of escape'.

According to KMC's Feroz, nothing close to such provisions was present at Regent Plaza or the Baldia Town garment factory. This notification remains only on paper, he pointed out.

Alarming state of Civil Defence

After the blaze of the Regent Plaza hotel, Sindh Chief Minister Murad Ali Shah headed a meeting to inquire about whose responsibility it was to conduct inspections. According to an official of the KMC who was present at the meeting, a senior official of the Civil Defence department replied to the CM, saying, "It was our duty."

Before that, neither the CM nor any of his cabinet members had any idea about whose mandate it was to inspect the buildings regarding fire safety. "The CM asked the official to tell them how many employees they have in their department," said the official, adding that the Civil Defence department's official failed to answer any query.

The deputy director of the Civil Defence department, Arshad Ali, told The Express Tribune that under the Civil Defence 1952 Act, they operate under the provincial as well as the federal governments. Their inspectors are deployed in all the districts of Sindh and work under the respective deputy commissioners, he said. One of their functions is to inspect safety measures of all the buildings, he added.

However, a former director of the department, requesting anonymity, shared that they have only 290 employees working in the entire province and they are legally bound to conduct inspection of all kinds of buildings yearly. Unfortunately, he added, they do not have enough manpower and facilities available with them. In other cities of Sindh, he said, the department does not even exist physically.

Ineptitude : Foam enough to put out fire in only one truck: KMC

A senior official of Karachi Metropolitan Corporation's (KMC) fire department says the corporation has fire extinguisher foam not more than what is needed to put out a fire in a single oil truck.

As for the refineries, they must rely on their own emergency response systems.  "We have 22 fire stations, most of which do not have any fire extinguisher foam," he said. "Even if some have it, it is less than 100 cans."

11 killed, 75 injured as fire erupts at Karachi's Regent Plaza Hotel

He added that each fire station should have a thousand cans of fire extinguisher foams. KMC chief fire officer Tehseen Siddiqui agreed that they have to make a yearly tender for acquisition of foam but for many years could not issue the tender due to financial constraints. In case of fire, he said, they have to ask the contractors to provide them some foam then and there on credit. "This is how it works when you don't have money," he said.

Apart from that, the official said they have only 19 out of 26 fire brigades functional in the city. Ideally, he said, they should have at least 100 brigades for a city like Karachi. Only one snorkel is functional out of four, he said, adding that they have one rescue vehicle, which was imported in 1985 and is used for all kinds of calamities in the city.

The last fire station, according to senior KMC municipal services director Masood Alam, was constructed in 1990 in Bhains Colony. Since that, he said, the Master Plan department has not provided them any space for fire stations. In 2001, a request was also made in this regard, he added.

As for the budget of the KMC's fire department, Alam said there are three components. The first component is of establishment, in which they pay Rs18 million as overtime to their employees and as much amount goes in their salaries.

The second component, he said, is of maintenance, for which they pay Rs25 million for the maintenance of their fire vehicles. The third component is for capital investment, he said, adding that they have no money earmarked for that.

The port fire officer of the Karachi Port Trust, Saeed Jadoon, told The Express Tribune that they have 18 fire tenders and one snorkel. He added their only fire-fighting ship has been grounded recently and they will soon purchase a new one.

For a city like Karachi, an expert on fire law, Shariq Ali, said the international response time of fire tenders should not be more than three minutes. Comparing Karachi with New York, he said the latter has 750 fire stations while its population is far less than Karachi's.

According to a study that Ali conducted, the total industrial area of the city is 275 square kilometres and in order to meet the international response time, one fire station must be constructed at every nine square kilometres in the industrial areas.

Published in The Express Tribune, February 22nd, 2017.
COMMENTS
Comments are moderated and generally will be posted if they are on-topic and not abusive.
For more information, please see our Comments FAQ