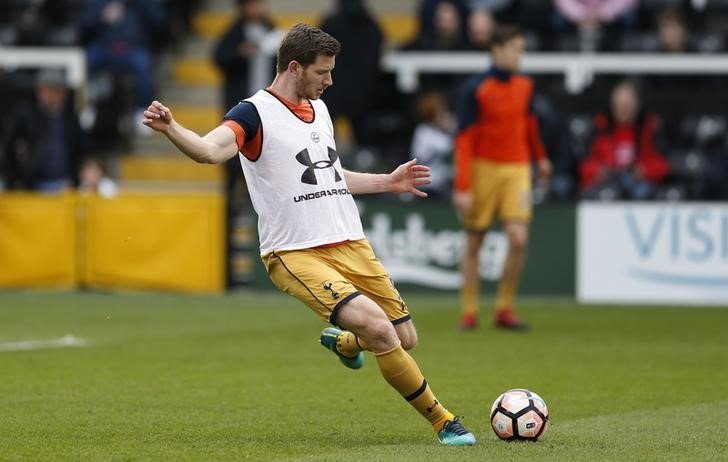 ---
LONDON: Tottenham Hotspur defender Jan Vertonghen believes his team can sustain their challenge in the Premier League, Europa League and FA Cup over the rest of the season.

Tottenham bounced back from a tough week with a 3-0 win in the FA Cup fifth-round at Fulham on Sunday, following back-to-back defeats by Liverpool in the Premier League and at Gent in the Europa League.

Spurs need to overturn a 1-0 deficit against Gent in the return leg at Wembley on Thursday before meeting Stoke City in the Premier League on Sunday, when they will look to improve on a run of two draws and a defeat in their last four league games.


'Ruthless' Pochettino is what Tottenham need, says Harry Kane


"We want to win both [the Europa League and FA Cup] and compete in the league as well, and I think our team is fit enough to cope with these things," Vertonghen, who was back in the side at Fulham after a month out, told British media.

Manager Mauricio Pochettino opted not to rest too many of his established players at Fulham and is likely to name strong lineups for the games against Gent and Stoke, but Vertonghen said the squad was not concerned by the demanding schedule. "I like to play as many games as possible and maybe the other guys do as well," he added.

Tottenham are third in the league behind Manchester City and 10 points adrift of leaders Chelsea, and while Vertonghen admitted the club could not outspend their richer rivals, he said Spurs' playing style levelled things up out on the pitch.


Pochettino aims for Spurs' resurgence


"Money-wise you can't compare but, on the pitch, our team is as strong as theirs, definitely," said Vertonghen. "We understand the way [Pochettino] wants us to play. We're a lot stronger... and we have shown that in the last couple of years."

Tottenham's last trophy was the League Cup in 2008 and the club have come agonisingly close to winning another since then, finishing runners-up in the same competition in 2009 and again in 2015, when they lost to Chelsea.

Vertonghen believes those disappointments have made Tottenham stronger. "We played a final against Chelsea at Wembley a couple of years ago and we want more of that," he said. "I think this team and the technical staff deserve a trophy with this club."