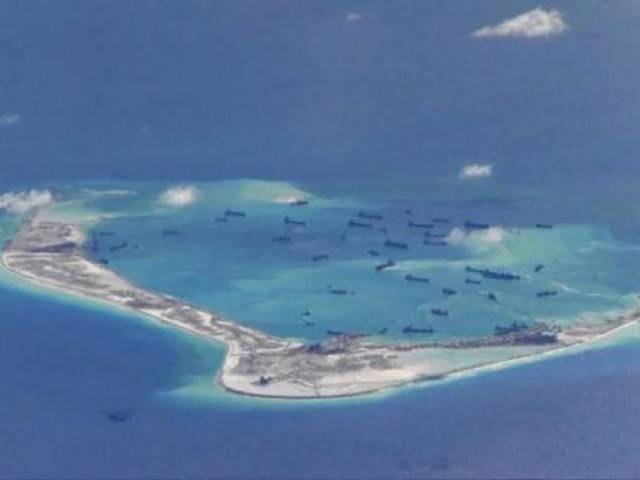 ---
BEIJING: China said on Tuesday it opposed action by other countries under the pretext of freedom of navigation that undermined its sovereignty, after a US aircraft carrier strike group began patrols in the contested South China Sea.

The US navy said the strike group, including the Nimitz-class aircraft carrier the USS Carl Vinson, began "routine operations" in the South China Sea on Saturday amid growing tension with China over control of the disputed waterway.

"China always respects the freedom of navigation and overflight all countries enjoy under international law," Chinese foreign ministry spokesman Geng Shuang said at a daily news briefing.

"But we are consistently opposed to relevant countries threatening and damaging the sovereignty and security of littoral countries under the flag of freedom of navigation and overflight," Geng said in China's first official comment on the latest US patrol since it began.

"We hope relevant countries can do more to safeguard regional peace and stability," he said.

US carrier group begins patrols in tense South China Sea

The US carrier strike group has not referred to its recent operations in the South China Sea as "freedom of navigation" patrols. US ships last year conducted several such patrols to counter any efforts to limit freedom of navigation in the strategic waters.

Friction between the United States and China over trade and territory under US President Donald Trump has increased concern that the South China Sea could become a flashpoint.

China wrapped up its own naval exercises in the South China Sea on Friday. War games involving its own aircraft carrier have unnerved neighbours with which it has long-running territorial disputes.

Beijing last week warned Washington against challenging its sovereignty in the South China Sea. It claims almost all of the resource-rich waters, through which about $5 trillion worth of trade passes each year.

US, China military planes come inadvertently close over South China Sea

Brunei, Malaysia, the Philippines, Taiwan and Vietnam also claim parts of the South China Sea that command strategic sea lanes and have rich fishing grounds, along with oil and gas deposits.

The United States has criticised China's construction of man-made islands and build-up of military facilities in the sea, and expressed concern they could be used to restrict free movement.

Foreign ministers of the Association of South East Asian Nations (Asean) on Tuesday expressed concern over what they see as militarisation in the South China Sea, Philippines Foreign Secretary Perfecto Yasay said after meeting with his Asean counterparts.