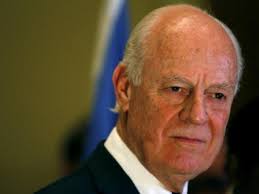 ---
GENEVA: Staffan de Mistura, the UN's Syria envoy, has said he suffers from "chronic optimism", a condition that will be tested this week when stalled Syria talks resume in Geneva.

So far, the civil war has proven to be an impossible problem for de Mistura, a 70-year-old United Nations (UN) veteran with experience in some of the world's most troubled hotspots.

The dual Swedish-Italian national, who is said to speak seven languages and favours pince-nez spectacles over conventional glasses, has an old-world demeanour and would not look out of place in a picture of European diplomats from a century ago.

He was named Syria envoy in 2014, taking a position that Algerian diplomat Lakhdar Brahimi and former UN secretary general Kofi Annan both quit amid the stalemate between Damascus and opposition groups.

When talks reconvene on Thursday, it will mark the fourth round of negotiations between Syria's warring parties moderated by de Mistura.

UN-backed Syria talks restart with rebels on back foot

Despite achieving no breakthrough, he has consistently maintained that incremental progress is being made.

The last round -- in which Syria's lead negotiator Basharal Jaafari repeatedly referred to the opposition negotiators as terrorists -- broke up in April last year as violence flared on the ground.

But according to de Mistura's official summary of the negotiations, the bitterly opposed sides left Geneva with an agreement on "a number of points of commonalities", something that was not apparent to observers of the talks.

"I have a terrible chronic disease," de Mistura told Al-Jazeera last year.

"It's called chronic optimism." De Mistura has earned a reputation for pursuing unorthodox solutions to intractable problems.

As Syrian forces besieged Aleppo last year, leaving an estimated 250,000 people facing starvation and in desperate need of aid, de Mistura offered to physically escort militants from the Fatehal Sham Front out of the city to ease the crisis.

The group, formerly known as Al-Nusra, rejected the offer on Twitter, but for de Mistura the curious tactic was nothing new.

According to a 2015 profile in Britain's The Guardian newspaper, while in Sudan he painted camels blue so desert bandits and helicopters overhead would know they held UN humanitarian cargo.

He also worked with smugglers to get aid into besieged Sarajevo during the Balkans conflict, former colleagues told The Guardian.

Annan had described the Syria envoy job as "mission impossible", and identifying concrete successes for any of the three people who have held the post is not easy.

'Islamophobia' fuelling terrorism: UN chief

But the UN-backed humanitarian task force created under de Mistura's watch has partially succeeded in increasing aid flows.

In 2015, fewer than 500,000 Syrians in besieged and hard-to-reach areas received life-saving supplies, but the number jumped to nearly 1.3 million last year, according to the UN.

De Mistura's previous UN roles have brought him to turbulent areas including Afghanistan, Iraq, Lebanon, Rwanda, and Somalia.

In 2013, he briefly stepped away from the UN to serve as Italy's deputy foreign minister in the short-lived technocratic government led by prime minister Mario Monti.