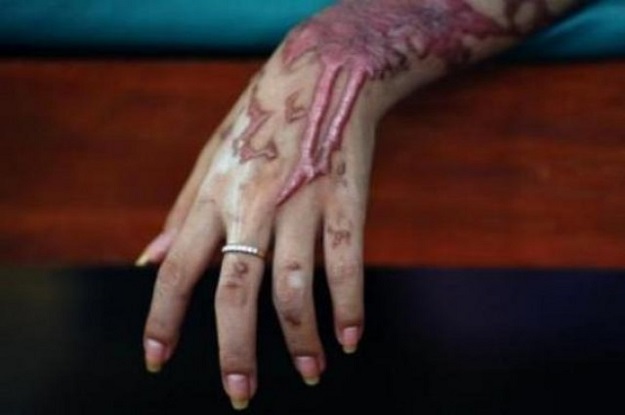 ---
ISLAMABAD: A 50 per cent decline has been witnessed in acid crime cases across Pakistan since 2014. However, a reverse trend is witnessed in the number of children attacked in similar cases between 2013 and 2016, rising from 15 per cent to 21.3 per cent.

2014 was considered to be a critical baseline with a total of 153 acid attacks reported in the year.

However the prevalence of acid attacks was stabilised in 2015 and 2016, according to the report which has been compiled by Acid Survivors Foundation (ASF) in collaboration with European Union (EU), Group Development Pakistan and National Commission on the Status of Women (NCSW).

Woman attacks man with acid for refusing her marriage proposal

In comparison with 2014, a 54.9 per cent decrease was witnessed in 2015 while a drop of 51.91 per cent in the victims was seen in 2016.

According to the data, it was noticed that the majority of the victims of acid violence were females.

In 2014, 66.19 per cent acid burn victims were females compared to the 32.85 per cent males. This spiked to 67.3 per cent females in 2015 against 32.6 per cent males.

In 2016 the percentage of female acid victims jumped to 69.9 per cent as compared to 26.21 per cent males.

The percentage of children victims of acid violence increased from 15 per cent in 2013 to 21.36 per cent in 2016.

Many children end up victims of acid attacks as collateral  damage such as sleeping next to the mother when acid is thrown at her but many acid attacks on children were also linked to marriage refusal or sexual advances, the report notes.

According to the report, 99 per cent of the culprits are male and only three females directly carried out the acid attacks. Most of the accused had a family link with the victim or knew them or were part of the community.

Geographical distribution

According to the data, 85 per cent of the acid attacks occurred in Punjab, mostly in southern Punjab followed by Sindh, Khyber-Pakhtunkwa, Balochsitan, Islamabad Capital Territory and Azad Jammu and Kashmir.

Meanwhile, among districts with the highest rates of acid attacks are Multan, Bahawlpur, Rahim Yar Khan and Muzaffargarh, according to the report.

Schoolgirl attacked with acid for rejecting proposal

While commenting over the findings of the report, Valerie Khan, Executive Director, Group Development Pakistan, said the passage of the Criminal Law Amendment Act XXV(2011) marks a milestone in the history of the country.

"But the major challenge is its effective implementation to further bring down the number of acid attack cases," she said.

There is also a need to improve the legal framework so that other aspects of acid and burn violence would be addressed keeping in mind the best interest of the survivor and the country, she said.

Member of the National Commission on Human Rights (NCHR) Chaudhry Shafiq said that it was "worrisome to see a number of gender-based violence cases being reported from highly educated families living in major cities."

Published in The Express Tribune, February 21st, 2017.
COMMENTS
Comments are moderated and generally will be posted if they are on-topic and not abusive.
For more information, please see our Comments FAQ