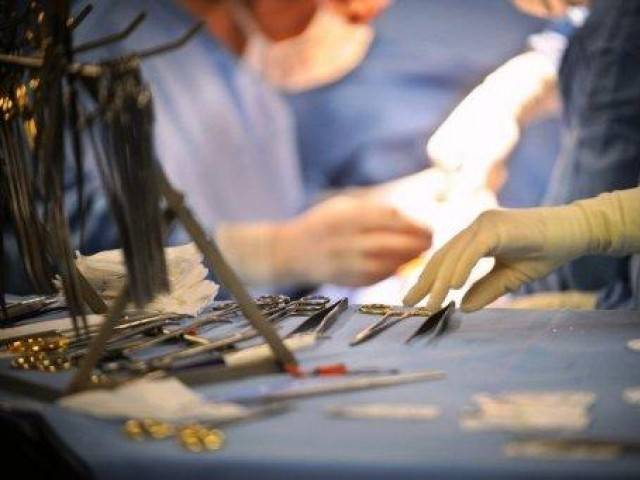 ---
ABBOTTABAD: Doctors at the Ayub Teaching Hospital have claimed to have made a new world record after they successfully conducted a surgery to remove stones from the gallbladder of a two-year-old boy, family and hospital officials said on Monday.

Naveed, who hails from the Khun Azizabad village and operates a business about scrap in Lahore, told The Express Tribune that his son Ahmed, who is 26 months old, had been suffering from severe stomach pain and vomiting for the last month.

Improving merit: 'Colleges selling education for money, not producing doctors'

Such was the extent of his pain, that the boy was unable to eat or digest his food. As a result, Ahmed's health deteriorated.

Naveed said that his wife took their son to a number of local doctors who told her that the boy was suffering from worms in his stomach and prescribed some medicines. However, the treatment did not improve the boys' condition.

When Naveed returned home following a panicked call from his wife, the boy was rushed to the Ayub Teaching Hospital (ATH) three days ago.

Doctors at the hospital conducted a thorough examination of the boy and ran a number of tests. An ultrasound report of the boy proved that he had stones in his gallbladder.

Surgeons decided to operate on the boy without further delay.

On Friday, according to Naveed and hospital sources, doctors operated on the boy and removed a 2.3 cm stone from his gallbladder successfully.

Capacity issues: Dearth of doctors, medical facilities draws ire of YDA

Meanwhile, Dr Irfan, in charge of surgical ward C, confirmed that stones had been removed from the gallbladder of the boy since they posed a danger to his life.

Dr Irfan told The Express Tribune that doctors carried out an open surgery on the boy. He added that they were expecting an unprecedentedly encouraging recovery ratio, adding that the boy was expected to be discharged from hospital over the next few days.

To a question, he said that although removal of the stones from the  gallbladder was the only option available  for a patient as young as Ahmed, they did not foresee the boy facing any stomach complications in his life.

Dr Irfan, though, did not shed light on how such a young boy got the stones.

Keep the clock ticking: A ray of hope for the historic Mayo Hospital

According to the ATH media coordinator Shafiqur Rehman, this was the second time the hospital had operated on a minor boy over the past two years.

He claimed that Friday's surgery was a new world record since doctors at ATH had conducted a similar surgery in 2015, on a three-year-old boy, which made it to Guinness Book of World Records.

Published in The Express Tribune, February 21st, 2017.