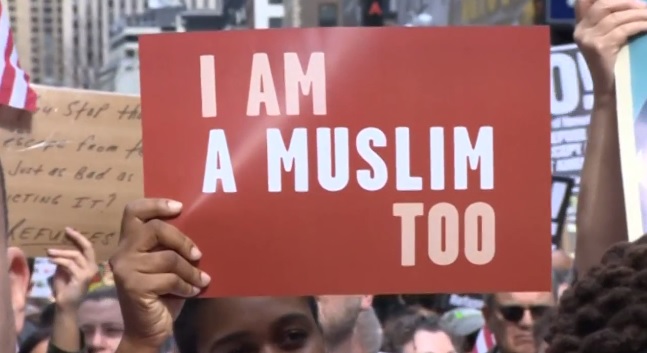 ---
Thousands of New Yorkers participated in the 'Today I am a Muslim too' rally held at the Times Square in New York on Sunday.

The rally had people from all walks of life come out to show solidarity with Muslims and denounce anti-Muslim rhetoric promoted by the US President Trump following executive orders that stopped refugees and travellers from seven-Muslim majority countries to enter US.


Live from #IAmAMuslimToo in Times Square! https://t.co/ACY9LilEY3

— Coexist Peace 🕊️🔴 (@coexistpeace) February 19, 2017


Holding placards featuring a hijabi woman in an American flag, captioned "We the people are greater than fear" and signs reading: "I am a Muslim too", the demonstrators paraded around New York's most famous tourist and local hangout.

The story behind the viral photo of Muslim and Jewish children protesting Trump


I stand in support of the march for equality and tolerance in Times Square today. We are one New York. #IAmAMuslimToo pic.twitter.com/PqFAvuPDNE

— Archive: Governor Andrew Cuomo (@NYGovCuomo) February 19, 2017


Organised by music mogul Russel Simmons, the gathering had Rabbis, Imams, a sikh, Buddhist, a Hindu, a Baptist pastor, Episcopalian and Presbyterian reverends including a Mennonite, a Seventh Day Adventist minister and local politicians and civil rights advocates as speakers.


Thank you to the thousands of people who showed up today to show their support for Muslims. It was an inspiring day, but we must keep it up! https://t.co/ARnESeSewb

— Russell Simmons (@UncleRUSH) February 19, 2017


The New York City Mayor, Bill de Blasio, assured the crowd that "regardless of your background, your faith or where you were born, this is your city."


Today I joined thousands of New Yorkers in Times Square to make something clear – we the people, we will have the final say. #IAmAMuslimToo pic.twitter.com/idG5l34oMG

— Mayor Eric Adams (@NYCMayor) February 19, 2017


Simmons urged the crowd to not be hostile towards Trump. "We won't speak too harshly of him today. We want to thank him for bringing us together," he said. "So we are here today to show middle America our beautiful signs and, through our beautiful actions and intention, that they have been misled -- that the seeds of hate that were small and maybe just ignorance cannot be watered, and that hate cannot grow because we are here to assist them in promoting love."

He said that those who demonise Muslims were actually demons, emphasising how Muslims were the victims of terrorism.

Brooklyn-born Palestinian-American activist and commentator, Linda Sarsour highlighted that February 19, 2017 marked the 75th anniversary of President Franklin Roosevelt's executive orders that "paved away for the internment of Japanese, German and Italian-Americans.

At New York Fashion Week, hijabs top looks fit for royalty

"I am unapologetically Muslim, all day, every day," Sarsour said to the crowd. "I am not afraid because fear is a choice; it is not a fact. So today I ask you, in the true grit and spirit of a New Yorker, that you choose courage in the face of fear."


.@SusanSarandon and @lsarsour at the #IAmAMuslimToo rally in Times Square. Solidarity! #HeretoStay #NoBanNoWall #SundayMorning pic.twitter.com/6rsCuoxQhI

— RoseAnn DeMoro (@RoseAnnDeMoro) February 19, 2017


The solidarity event had former-first daughter, Chalsea Clinton and actor Susan Sarandon in attendance as well.


Thank you to all who organized #IAmAMuslimToo today - Charlotte's 1st protest rally. #NoBanNoWallNoRaids pic.twitter.com/5mSXGQtPJU

— Chelsea Clinton (@ChelseaClinton) February 19, 2017
COMMENTS (1)
Comments are moderated and generally will be posted if they are on-topic and not abusive.
For more information, please see our Comments FAQ