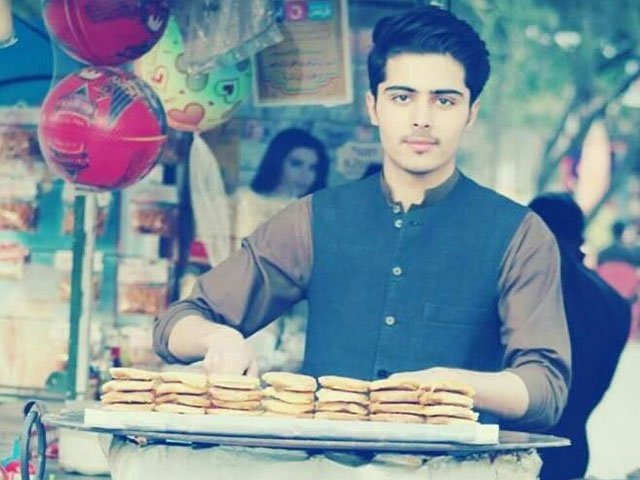 ---
You may have come across a picture of this burgerwala making rounds on social media, and rightly so.

According to Raza Mehdi, the lad Shah Fahad, who is apparently this attractive 18-year-old, who sells burgers in Ayoob Park in Rawalpindi contacted Mehdi and asked him to cast his magic and make him famous like the Chaiwala.

This chai wala is brewing more than a cup of tea

In a live session at Facebook, Raza revealed that Fahad contacted him through his Twitter account.


Will be live tonight on my facebook page : https://t.co/V8Xu6XaNsE tonight at 9:30 PM

Will share the #BurgerWala story and how it happened

— Syed Raza Mehdi (@SyedRezaMehdi) February 19, 2017


Raza shared, "He sent me his picture, which I tweeted, and I had no idea it will circulate this fast."

He went on to answering people's questions, as to why they couldn't locate Fahad at the Ayoob Park, to which he replied, "Fahad told me he quit. He said that he left his job at the burger stall to pursue his studies since he will soon be enrolling in grade 9."

Chai wala lands 'modeling contract'

"So, I asked him to go back to the park and record a message from his stall, and he did so. Even if he is telling half the truth, and does not work at a burger stall, why do we feel the need to criticise everything and everyone." asserted Raza.

You can watch the whole live video here:



Soon after the live chat, Burgerwala's video was posted by Raza, where he can be seen at the burger stall he used to work at.

Watch the video here:


Got this video message from that #BurgerWala. pic.twitter.com/XnLi7NWqrz

— Syed Raza Mehdi (@SyedRezaMehdi) February 19, 2017


As soon as the picture hit Twitter, it was soon circulated and everyone seemed to love him.


After Chai Wala here comes Burger Wala. 18 Yrs Old Shah Fahad belongs to Rawalpindi sells Bun Kabab at Ayub Park Rawalpindi. #BurgerWala pic.twitter.com/gD28I9YoV0

— Syed Raza Mehdi (@SyedRezaMehdi) February 17, 2017
#BurgerWala looks better then #ChaiWala

— 💀 (@shatteredoness) February 19, 2017
https://t.co/wfn5oT44GX
Ye le bhai teri dua Qabool agya Burger wala #Burgerwala https://t.co/OGJVsJfl12

— Taymoor Nouman Hashmi (@TravelwTaymoor) February 19, 2017
This #Burgerwala is better than #Chaywala ☺️☺️ pic.twitter.com/gGDrd12HeV

— SaNa ® (@SanaRasheed786) February 19, 2017


https://twitter.com/UswaZeydi/status/833280101928296448

While one of the users saw this happening long time back:

https://twitter.com/abdul_kool91/status/788556056276430848

Have something to add in the story? Share it in the comments below.