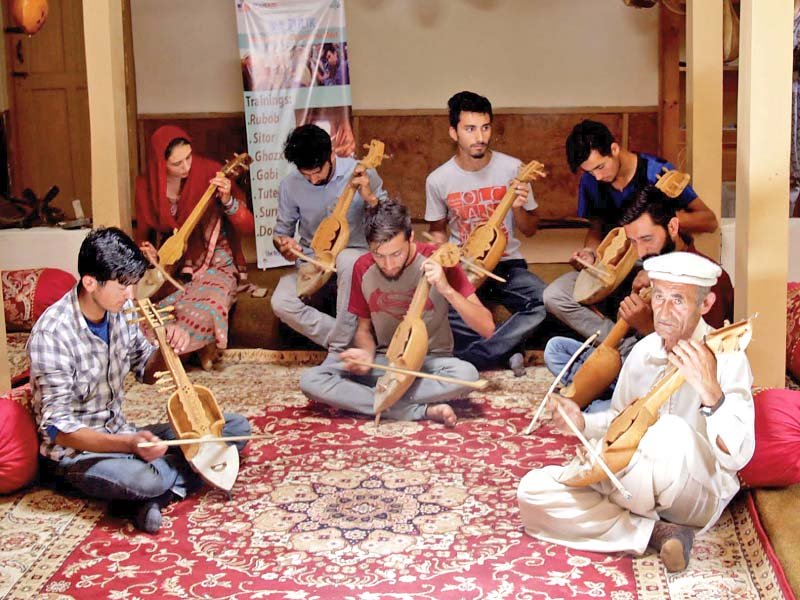 ---
GILGIT: After the Attabad lake disaster in 2010 initially stranded people living between the newly formed lake and the high Khunjerab Pass, the priorities of these people underwent a certain change.

Traditional folk music and dance of Pamir was not among the topmost priorities anymore.

"It was a concern that our rich heritage of folk music was fading away," recalls Didar Ali. Ali was a founding member of the Bulbulik Heritage Centre, a school formed in Gulmit town in the remote Gojal valley near Passu in Gilgit-Baltistan with the specific purpose of preserving the art of playing traditional instruments and traditional songs.

"We had to do something for the preservation [of music and language] before it was too late," Ali adds.

A first-of-its-kind institute in the region, the school was established in April 2016 as a project of the Gulmit Educational and Social Welfare Society (GESWS). Later, with help from veteran traditional musician such as Bech Rehmatullah Baig and funding from the likes of USAID through the SGAFP-NRSP, the school formally opened in July last year.

Offering training in traditional instruments such as Surnaye, Tutek, Rubab, Ghazxhek, Sitor, Dorya and Gabi, Bulbulik has so far trained around 70 artists - including women.

Besides training, Bulbulik has also documented 50 Wakhi folk songs so far, while another 30 folk songs are being translated from Wakhi language into English before they are published in a book called Piiwand. The Wakhi language is considered to be an endangered language by UNESCO with around 70,000 speakers.

"We are planning on publishing two videos and an audio song in Wakhi language under Bulbulik," said Ali while discussing future plans about the school.

Apart from offering training, students of Bulbulik have gone on to showcase Pamir's culture and tradition at a number of cultural festivals, especially in Islamabad during the Pamir Music Festival in early January.

Majida Fehmy is one of local Gulmit women who took a two-month training from the school last year.

"I play the guitar," said Fehmy who is a student.

"[This] is new for me but I enjoy it very much," she said, adding that she wants to try her luck in signing.

However, with the school currently operating out of a rented building constructed in a traditional Pamiri-style, says it requires funding to build a purpose-built school.

Published in The Express Tribune, February 19th, 2017.