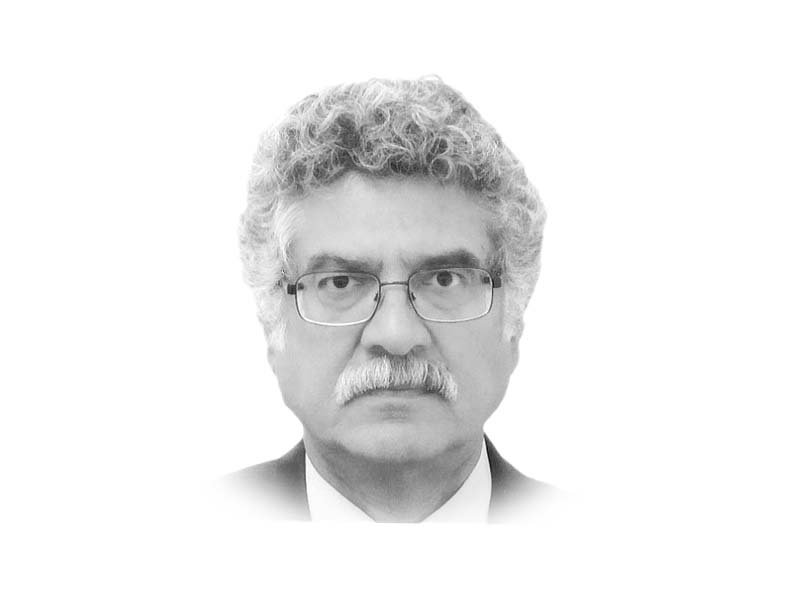 ---
As the Pakistan government reaches out to the newly elected Trump administration in an attempt to reverse the negative trajectory in relations with the US, and while there are positive signals from Washington, some commentators seek to derail these efforts at the very outset through a report entitled "A New approach to Pakistan; Enforcing Aid Conditions without Cutting Ties".

The main thrust of this study is that the US must use its aid as leverage to convince Pakistan not to use terrorist proxies against the US, Afghanistan and India. It further recommends not to consider Pakistan as an ally; enforce counter-terrorism conditions on US military aid and reimbursements to Pakistan; use the option of unilateral action including drones, and link future military assistance to specific counter-terrorism measures failing which Pakistan should be sanctioned and designated as State sponsor of terrorism. A further incendiary twist is to promote a rift between the Pakistani political and military leaderships by alleging that the military is supporting terrorist groups without the civilian government's consent. Moreover, the report claims that "Pakistan's paranoia regarding India is unfounded" and that the "unconstrained expansion of (Pakistan's) nuclear arsenal, particularly the development of tactical nuclear weapons and extended range missile systems, also remain a cause for concern, especially with regard to India".

Such blatantly biased views and recommendations are not only evidence of the total lack of objectivity and impartiality expected from such an academic study, but it is also clear that this study is based on obvious distortion of facts. For instance, Pakistan's National Action Plan against terrorism, fully supported by both the civilian and military leaderships, is ignored. As for India, it is not paranoia but growing Indian military capabilities, supported by the US itself, that Pakistan needs to respond through acquiring capabilities that India already has. But worst of all is to question Pakistan's commitment to fight terrorism. Considering the high price that we continue to pay in terms of human and material losses caused by terrorists, such an allegation is obscene.

Since 9/11, more Pakistani civilians and military personnel have been killed due to terrorist acts than from the US. The material damage to Pakistan is over 150 billion dollars. Just over the last few days, more than 120 people have been killed by suicide bombers in several parts of the country. While Zarb-e-Azb and other military operations have significantly reduced terrorist incidents, the threat still remains. These operations have broken the back of the al Qaeda while the TTP and its allies are on the run, with sanctuary in Afghanistan from where, with support from Afghanistan's NDS and India's RAW intelligence agencies, they continue to carry out terrorist acts in Pakistan. Moreover, both NDS and RAW are using Afghan soil to promote Baloch insurgency as well as supporting other ethnic and sectarian terrorist groups.

While the study lacks any credible evidence against Pakistan, it ignores the public acknowledgement by India's National Security Adviser, Ajit Doval, that India is promoting terrorism in Pakistan. It also makes no mention of the confession made by Indian spy Kulbhushan Yadav about Indian espionage in Pakistan. Whereas Islamabad has offered full cooperation to India to investigate the Mumbai, Pathankot and Uri incidents, in which the Indians themselves are dragging out the process by failing to share evidence, no such cooperation is extended to Pakistan. Even on the 2007 Samjhauta Express terrorist attack killing 42 Pakistanis visiting India, the culprits, Colonel Purohit and Swami Aseema Nand, have been exonerated even through convicted by an Indian court.

As regards the Taliban, it is not clear whether the US considers them as terrorists or wants Pakistan to bring them to participate in the so-called Afghan-led and Afghan-owned peace process. These two approaches are mutually exclusive because the US cannot fight and talk to the Taliban at the same time. This is the contradictory legacy of the Obama administration which blamed Pakistan for its military failure in Afghanistan

Trump is right in saying now that he has inherited a mess. In its time the Bush administration shifted its focus from Afghanistan to Iraq which enabled the retreating Taliban to re-group. Then Obama, in pursuit of regime change in Libya and Syria, used terrorist groups that morphed into the IS which Washington supported in Syria while opposing them in Iraq. Now the IS has spread across the Middle East and North Africa as well as Afghanistan where it has made common cause with the TTP. In this radical turn of events, the IS is now fighting both the Taliban and the Afghan forces while simultaneously its cohorts like the Jamaatul Ahrar, are targeting Pakistan with Afghan and Indian connivance.

The authors of this report have failed to acknowledge these complicated facts. They should recognise that now the greater threat to the US in Afghanistan as in the Middle East is the ISIS and not the Taliban. In fact Americans would need the Taliban to tackle the ISIS. Countries like China and Russia have already come to this conclusion — engaging with the Taliban while working with Pakistan to deal with the common ISIS threat. It is worth recalling here what Winston Churchill once said: we can trust the Americans to do the right thing but after having exhausted all other options. Hopefully Trump will come to do the right thing. But probably not if he gets the kind of advice provided in this study.

Such a partial and biased study can only be possible if the authors were guided more by their personal agendas and/or vendettas against Pakistan rather than a rational analysis. It is also possible that their paymaster is the Indian — American lobby rather than the institutions to which they are affiliated such as Hudson, Heritage, Georgetown and Brookings. This is apparent from the note at the end of the report that listings of the author's affiliations "are for identification proposes only and do not represent organizational endorsement of the findings in the report".

There is a lesson in all this for Pakistanis. We have been sanctioned before but emerged stronger. Moreover, we are a nuclear power in a pivotal geo-political location. Instead of seeking friends and allies in Washington or elsewhere, we should stand on our own feet and fight terrorism for our own security. Like everyone else, we should pursue our own interests. In the American context, it is worth recalling President Truman who said that if you want a friend in Washington — get a dog.

Published in The Express Tribune, February 19th, 2017.

Like Opinion & Editorial on Facebook, follow @ETOpEd on Twitter to receive all updates on all our daily pieces.