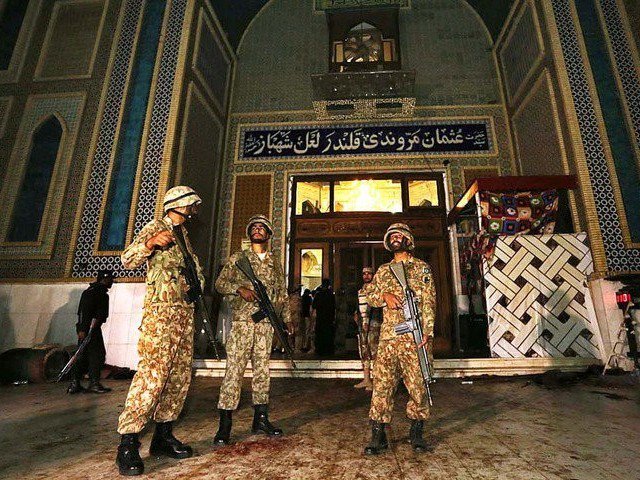 ---
KARACHI: As many as 27 hardcore terrorists, including a would-be suicide bomber, were killed during separate shootouts with the Rangers and police in a nationwide crackdown against militants following the deadly suicide bombing at the shrine of Lal Shahbaz Qalandar in Sehwan.

Nearly 18 terrorists were killed during two pre-dawn encounters with the paramilitary force in Manghopir and Super Highway while nine more were killed by the police in District Malir. The militants killed were affiliated with four different banned outfits, Lashkar-e-Jhangvi (LeJ), Tehreek-e-Taliban Pakistan's faction Jamaatul Ahrar (JuA), Tehreek-e-Taliban Pakistan and a self-proclaimed Islamic State (IS) group, which according to Rangers and police were in involved in planning terror activities in Karachi, including a potential attack on the Rangers Headquarters in Karachi.

At least eleven suspects were killed during a pre-dawn raid in Karachi's Manghopir area - once a stronghold area of militant organisations. Eight of them were later identified as Malik Tasaduq Hussain, Amin alias Kala, Arman Ahmed alias Umair, Yasir Siddiqui, Noshad Khan alias Mama, Sheraz Ahmed, Sheraz alias Sajjad and Azizullah.

"One of the terrorists, identified as Malik Tasaduq Hussain, was associated with LeJ and JuA and was involved in various terror activities. He carried Rs500,000 as head money," said a Rangers spokesperson while sharing details of the killed men.

Hussain had also been involved in the kidnap-cum-murder of American journalist Daniel Pearl in March, 2002 in Karachi and received a month-long training in Afghanistan , said the spokesperson, claiming that the terrorists' criminal record has confirmed that they had been involved in various terrorist activities.

"They were all hardcore terrorists associated with different proscribed organisations and were planning to carry out major terror activities in Karachi," he said, adding that Hussain was involved in various other criminal activities, including extortion, kidnapping and sectarian killings.

In another pre-dawn raid on the Super Highway, seven more terrorists were killed on Friday by the Rangers. Three of them, Yasin alias Chohto, Rashid alias Noor Alam alias Shoaib and Hidayatullah, were later identified as the members of the Abu Zar Burmi group of IS. One of them, Yasin, had also served in the organisation as deputy and had been involved in various cases of terrorism.

Separately, nine more terrorists were killed during a raid conducted by District Malir police on Super Highway Friday evening. "An exchange of fire took place when we raided the house of father-in-law of militant organisation's Karachi chapter chief on Super Highway," said District Malir SSP Rao Anwar.

"One of the killed terrorists, Razi Muhammad, was a suicide bomber," said SSP Anwar, claiming that the terrorists, affiliated with JuA and LeJ, were plotting a major terror activity in the city, which was particularly going to target the Rangers Headquarters in Karachi.

Published in The Express Tribune, February 18th, 2017.