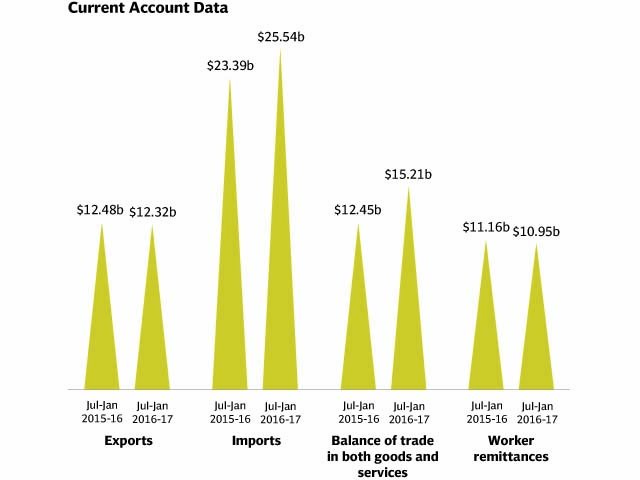 ---
KARACHI: Pakistan's current account deficit widened by 90% in the first seven months (Jul-Jan) of 2016-17, standing at $4.72 billion compared with $2.48 billion in the same period of the previous year, according to data released by the State Bank of Pakistan (SBP) on Friday.

With the difference between exports and imports being the biggest determinant of current account balance, a deficit/surplus reflects whether a country is a net borrower/lender with respect to the rest of the world.

Balance of payments: Current account deficit widens 92%

Increase in the current account deficit means the government faces pressure to address the country's balance of payments position in the medium- to long-term.

However, some experts believe the deficit is positive in the present situation because it is led by investments instead of consumption. Owing to the construction phase of the China-Pakistan Economic Corridor (CPEC), Pakistan is witnessing more outflows than inflows. However, the situation will change once the returns of CPEC start coming in, they say.

Pakistan's current account deficit in whole fiscal year 2015-16 stood at $3.26 billion. This year, the gap in the first seven months (Jul-Jan) of the ongoing fiscal year 2016-17 has already widened by 45% compared to the entire last year's level.

As a percentage of gross domestic product (GDP), the current account deficit widened to 2.5% in the first seven months of 2016-17 as opposed to 1.5% in the same period of last year.

Why managing the current account deficit is crucial

Pakistan exported goods worth $12.32 billion in Jul-Jan 2016-17 compared to exports valuing $12.48 billion in the comparable period of 2015-16, reflecting a year-on-year decrease of 1.28%.

Total imports of goods in the seven months were $25.54 billion as opposed to $23.39 billion in the comparable period of 2015-16, up by a significant 9%.

Balance of trade in both goods and services at the end of the first seven months was recorded at a negative $15.21 billion compared with the deficit of $12.45 billion in the same period of preceding fiscal year.

Worker remittances amounted to $10.95 billion in Jul-Jan 2016-17, down 1.8% from the same period of previous fiscal year, when they totalled $11.16 billion.

Worries increase as current account deficit widens by 91% to $2.6 billion

Pakistan received remittances amounting to $19.9 billion in 2015-16, up 6.4% from the previous year.

At a time when the country's exports are on the decline, the slowdown in remittances could be worrying for the country. Remittances make up almost half of the import bill and cover the deficit in trade of goods accounts. Moreover, the country has also been facing low levels of foreign direct investment (FDI).