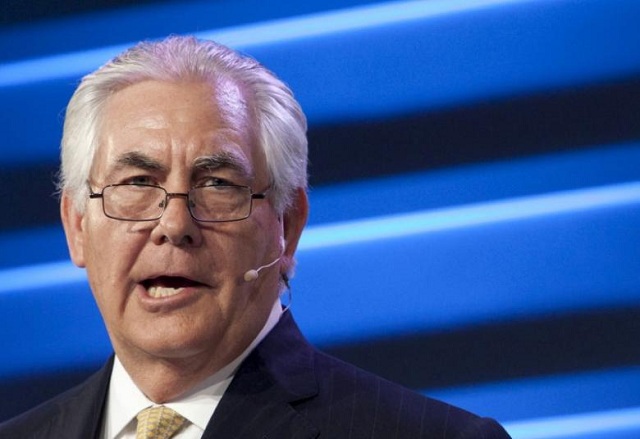 ---
US Secretary of State Rex Tillerson on Friday faces a grilling by global peers seeking clarity about Washington's position on the Syria conflict ahead of crunch UN peace talks in Geneva.

On the sidelines of a G20 gathering in Germany, Tillerson will join a group of countries supporting the Syrian opposition for talks pushing a political solution to the nearly six-year war.

It will be the first meeting of the so-called "like-minded" nations -- made up of around a dozen Western and Arab countries as well as Turkey -- since US President Donald Trump took office.

Azaz attack: Massive tanker bomb kills 48 in Syria border town

Tillerson, on his first diplomatic trip abroad, will likely face pressure to spell out where Trump stands on the future of Syrian President Bashar al-Assad.

"It will be an opportunity to gauge the American position on the political aspect of the Syrian issue," a French diplomatic source told AFP.

The meeting comes ahead of a new round of United Nations-led talks in Geneva on February 23 involving Syrian regime and rebel representatives.

Under Trump's predecessor Barack Obama, Washington insisted Assad had to go, putting it at odds with Moscow which backs the Syrian leader.

Trump has said he is open to closer cooperation with Moscow on Syria, particularly in the fight against the Islamic State jihadist group, leaving the Assad question open.

Saudi Arabia calls for end of carnage in Syria's Aleppo

With Russia's sway in the conflict growing, Moscow has seized the initiative by hosting separate peace talks in Kazakhstan with key NATO ally Turkey, brokering a fragile truce in late December between the warring parties in Syria but making little other progress.

"It's essential to know what the US administration has in mind," a European diplomat said ahead of Friday's talks in the Rhine river city of Bonn.

"Our goal is to make sure to bring the (peace) process back under the UN control," the source added.

German Foreign Minister Sigmar Gabriel, who is hosting the G20 meeting, said he wanted the "like-minded" countries to speak as one.

"What we need is unity so we can achieve the resumption of negotiations in Geneva between the different interest groups and parties to the Syrian conflict."

Tillerson, who has kept a low profile so far, on Thursday reassured allies with a cautious approach to Russia, signalling that there would be no radical shift despite Trump's pledges to seek a softer line on Moscow.

Speaking after his first sitdown with Russian Foreign Minister Sergei Lavrov, Tillerson said the US sought cooperation with Moscow only if it "will benefit the American people".

Joint session on Syria to go ahead: Kazakhstan

"Where we do not see eye to eye the United States will stand up for the interests and values of America and her allies," he said.

US Defense Secretary James Mattis, speaking at a NATO meeting in Brussels on Thursday, also stuck to convention when he told his counterparts that Washington was not ready "right now" for military collaboration with Russia.

Moscow for its part expressed impatience with the lack of progress in bolstering ties since Trump moved into the White House.
Kremlin spokesman Dmitry Peskov said the two countries were "wasting time," when neither on its own could solve pressing world problems.

The G20 gathering of leading and developing economies, which includes Brazil, China and Britain, finishes Friday.

Attention will then shift to the more high-profile Munich Security Conference, starting Friday, where US Vice-President Mike Pence will become the latest Trump representative to shed light on what Trump's "America First" policy means for the rest of the world.
COMMENTS
Comments are moderated and generally will be posted if they are on-topic and not abusive.
For more information, please see our Comments FAQ