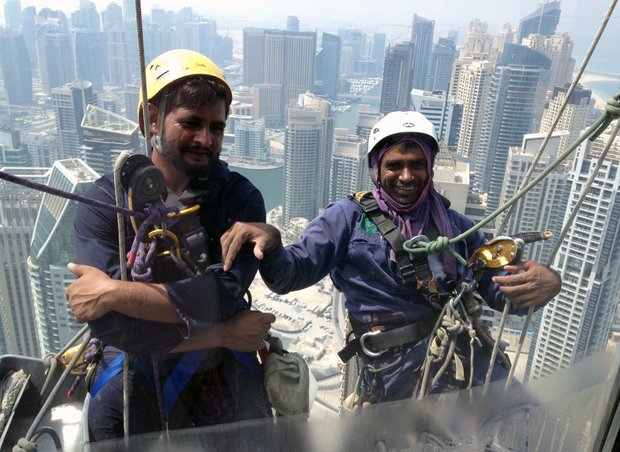 ---
ISLAMABAD: Pakistan is poised to sign an agreement with Azerbaijan for the export of manpower to the fast-growing country, in addition to buying oil and gas from the energy-rich Central Asian region.

Azerbaijan President Ilham Aliyev will visit Pakistan to attend a meeting of the Economic Cooperation Organisation (ECO) slated for March 1.

Senior officials and ministers of ECO member-countries will meet from February 26 to 28 to deliberate on a number of issues. Azerbaijan officials and ministers will also join them and they are expected to sign an agreement with Pakistan on manpower import. They will also ink an inter-governmental agreement for trade in oil and gas and setting up a liquefied natural gas (LNG) terminal in Pakistan.

At present, Middle Eastern countries like the United Arab Emirates (UAE), Qatar, Kuwait and Saudi Arabia are big suppliers of oil and gas to Pakistan to meet its energy needs.

UAE and Saudi Arabia are also big sources of remittances because of a huge number of Pakistanis working in these countries.

Owing to financial constraints in Saudi Arabia following a sharp fall in prices of crude oil - its main export product, Pakistani expatriates are encountering problems and many Saudi companies have been shut down, leaving employees, including those from Pakistan, jobless.

Now, Pakistan is planning to make forays into the Central Asian labour market and Azerbaijan appears to the first country in this region that is expected to import Pakistan's manpower.

Azerbaijan, a former Soviet republic on the Caspian Sea, is situated at the border of eastern Europe and western Asia and is the most populated nation of the Caucasus.

According to officials aware of the development, Azerbaijan has expressed the desire to sign an agreement for manpower import from Pakistan. The Overseas Pakistanis and Human Resources Development Division has received a draft agreement on cooperation in the field of labour, employment and social protection from the Ministry of Labour and Social Protection of Population of Republic of Azerbaijan.

Pakistan's foreign and economic affairs divisions have already given its consent to the draft agreement while the Law and Justice Division has vetted the draft.

Figures released by the Azerbaijan government in January this year reveal that the number of foreigners, registered in the personal accounting system last year, reached 33,940 with an increase of 6,078 people. Of these, 720 were Pakistanis.

Azerbaijan's economy has seen steady growth in recent years. The country is rich in oil and gas reserves, which account for a large proportion of the gross domestic product - the size of national economy.

Western companies have invested millions in the development of Azerbaijan's energy sector in recent years. Other important sectors are agriculture and mining as the country has rich deposits of gold, manganese, cobalt, silver, titanium and copper.

In recent years, Azerbaijan has had one of the fastest growing economies in the world. Although Azerbaijan is not a popular expatriate destination in relation to European countries, the energy sector has seen an influx of foreigners seeking work opportunities.

Published in The Express Tribune, February 17th, 2017.

Like Business on Facebook, follow @TribuneBiz on Twitter to stay informed and join in the conversation.