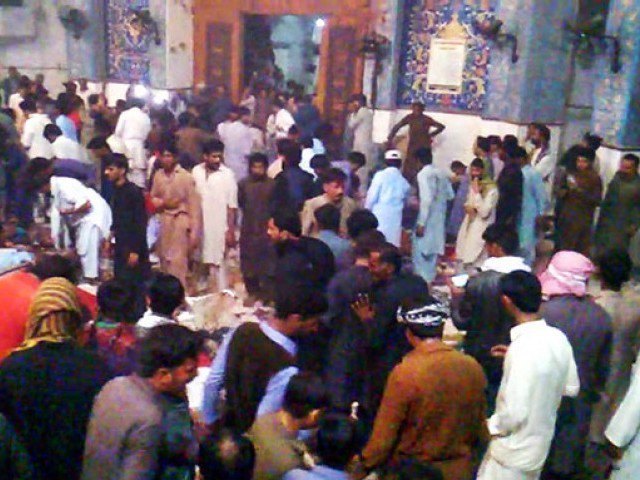 ---
There are 72 confirmed dead and over 100 injured in the suicide bombing of the Sufi shrine of Lal Shahbaz Qalander close to Sehwan town in Sindh. The number of dead is almost certain to rise in view of the sparse medical and emergency facilities in the area. The explosion occurred inside the compound where devotees gather every Thursday evening to perform the dhamal, a devotional dance. A report in this newspaper says that the attack is being claimed by Islamic State (IS) but this is impossible to verify. Once again the bombers have got through, hitting another soft vulnerable target where, considering the heightened security awareness after the Lahore bombing on Monday 13th February and subsequent incidents elsewhere in the country, it might have been expected that vigilance was enhanced. If it was then it failed to stop the bomber, and if it was not then those responsible for security at the venue have to shoulder at least some of the blame for this latest tragedy.

The illusion of Pakistan as a safer and more peaceable state has been blown into a bloody tapestry on walls, by roadsides and at public gatherings across the land. The terrorists have usurped once again the writ of the state and the state itself is in disarray, hobbled by its failure to confront the terror threat in a robust and consistent manner that transcends the politics of partiality. That failure has created the space for terrorists to regroup and recover from whatever blows have been inflicted upon the various groups that seek the downfall of the state. Terrorism is resourceful, it is adaptive and flexible, intelligent and utterly committed to its goals and has no qualms about butchering indiscriminately to achieve them. Whilst there are sections of the media and wider society that condemn utterly these dreadful crimes there are others that do not, and the absence of clerical voices among those issuing condemnatory statements is notable. Terror has, in less than a week, turned the clock back by months, perhaps years. Once again the land is cloaked in fear and the fingerprint of the state is on the clasp at the neck of that cloak.

Published in The Express Tribune, February 17th, 2017.

Like Opinion & Editorial on Facebook, follow @ETOpEd on Twitter to receive all updates on all our daily pieces.