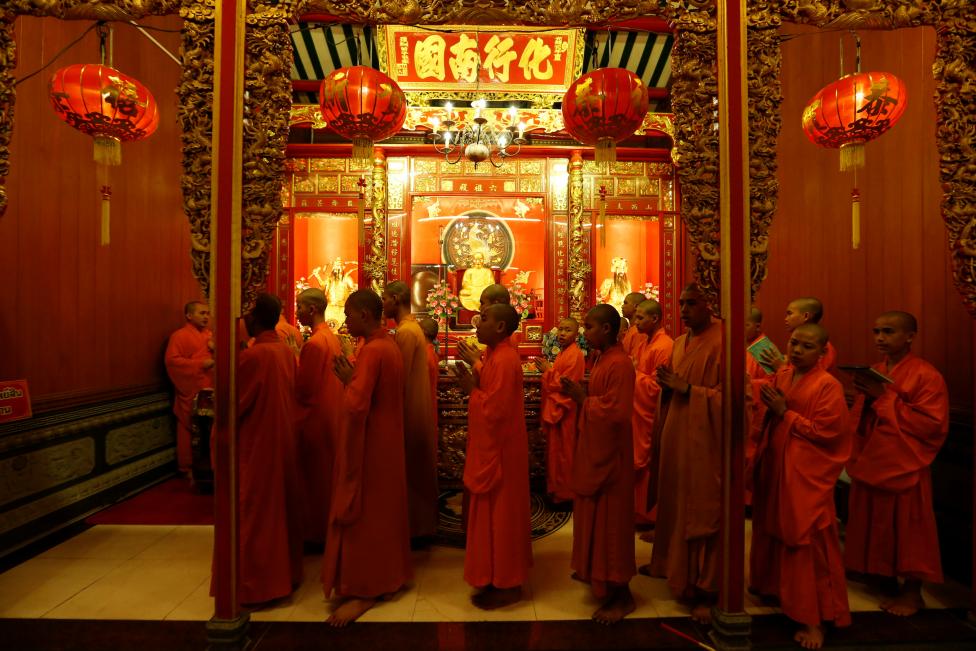 ---
Soldiers and police surrounded a scandal-hit Buddhist temple on Bangkok's outskirts Thursday in a bid to arrest the sect's spiritual leader after Thailand's junta chief invoked special powers to put the site under military control.

It is the latest twist in a long-running saga between between investigators and the powerful Wat Dhammakaya temple, a breakaway Buddhist order whose controversial founder has been charged with embezzlement but never been brought to court.

Previous attempts to raid the super-rich temple's 1,000 acre compound were thwarted after thousands of devotees showed up to defend the septuagenarian monk.

Thai junta chief says king has chosen new Buddhist leader

The former abbot is believed to be holed-up inside the temple, which is famous for its space-age architecture, but has not been seen in public for months.

The monk, Phra Dhammachayo, is accused of money laundering and accepting embezzled funds worth 1.2 billion baht ($33 million) from the owner of a cooperative bank who was jailed.

Early Thursday hundreds of police and soldiers were bussed into the site, locking down roads leading to the vast temple, following a sudden order endorsed by junta leader and prime minister, Prayut Chan-O-Cha.

The order invoked special powers, known as Section 44, putting the area under military control.

"We are sealing off the temple and after that we will search all the buildings," said Colonel Paisit Wongmaung, head of the DSI - Thailand's equivalent of the FBI.

"If (the abbot) thinks he is innocent he should surrender and enter judicial process."

In an emailed statement the temple said "4,000 police and military" had been deployed with blockades "now prohibiting anyone from entering or leaving".

Sect supporters are believed to be inside the temple alongside monks, whose mantras could be heard outside the temple walls while police patiently waited.

There have been several failed attempts to persuade the former abbot to leave the temple.

Historically, secular authorities have been reluctant to intervene in the affairs of the clergy in the Buddhist-majority country.

Critics among the conservative mainstream Buddhist establishment accuse Phra Dhammachayo of promoting a buy your way to nirvana philosophy.

The temple is also accused of having links to ex-premier Thaksin Shinawatra, who was ousted in a 2006 military coup.

The administration of his sister Yingluck, who was also prime minister, was also toppled by the military again in 2014.

Promoting tourism: PTDC plans Buddhist conference

The sect runs a sophisticated PR operation, including its own channel as well as hosting several spectacular gatherings of orange-robed monks each year.

In the last 30 years the Dhammakaya temple has grown exponentially, raising tens of millions of dollars.

Last week Thailand's new king chose an 89-year-old abbot to become the country's new Supreme Patriarch - or top monk - ending a three year impasse over the position.

The selection of Somdet Phra Maha Muniwong also saw a Dhammakaya-linked abbot passed over for the top job.
COMMENTS
Comments are moderated and generally will be posted if they are on-topic and not abusive.
For more information, please see our Comments FAQ