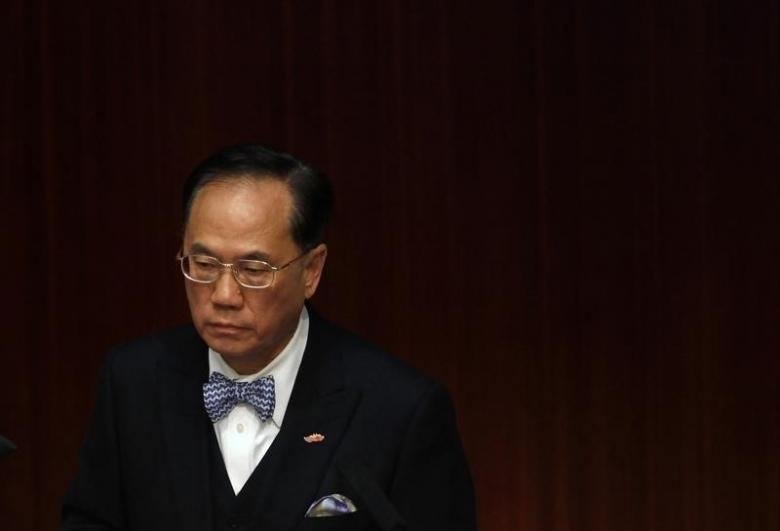 ---
HONG KONG: Hong Kong's former leader Donald Tsang will soon learn his fate as the jury in his high-profile corruption trial began deliberating Thursday.

Tsang, 72, held the leadership post of chief executive for seven years from 2005 and is the highest-ranking Hong Kong official to face a corruption trial.

It comes at a time when residents are losing faith in Hong Kong's leaders, as a string of high-profile corruption cases fuel public suspicions over cosy links between authorities and business leaders.

Tsang has pleaded not guilty to three charges of misconduct and bribery while he was in office. Each carries a maximum jail sentence of seven years.

The allegations are linked to a failure to disclose his plans to lease a luxury flat in the southern Chinese city of Shenzhen from a major investor in a broadcaster - which at the time was seeking a licence from the Hong Kong government.

Hong Kong former leader pleads not guilty over corruption

Tsang is accused of approving the company's application for the licence.

Another of the investor's companies also paid for a refurbishment of the flat, prosecutors said, including a gym, tea room and calligraphy room.

In addition, Tsang failed to declare that an architect he proposed for a government award had been employed as an interior designer on the flat.

Wearing his customary suit and bow-tie, Tsang arrived with his wife at the city's High Court and sat calmly in the dock as the judge gave guidance to the jury Thursday.

"Each of you has taken an oath or an affirmation to return a true verdict," judge Andrew Chan told the panel of eight women and one man.

"You should strive to reach a unanimous verdict," Chan added, saying he would accept a majority of at least seven-to-two.

Tsang has previously said that he had "every confidence" he would be exonerated.

But prosecutors have characterised his conduct as an abuse of power to further his own personal interests.

In 2012 Tsang apologised for separate allegations that he accepted inappropriate gifts from business friends in the form of trips on luxury yachts and private jets.

Tsang's former deputy Rafael Hui was jailed for seven-and-a-half years in 2014 after being found guilty of taking bribes from Hong Kong property tycoon Thomas Kwok.

Hong Kong's unpopular current leader Leung Chun-ying also faces allegations of corruption over receiving a reported payment of HK$50 million ($6.5 million) from Australian engineering firm UGL before he took office.

Leung will step down as chief executive in July - his successor will be chosen by a pro-Beijing committee representing special interest groups in March.
COMMENTS
Comments are moderated and generally will be posted if they are on-topic and not abusive.
For more information, please see our Comments FAQ