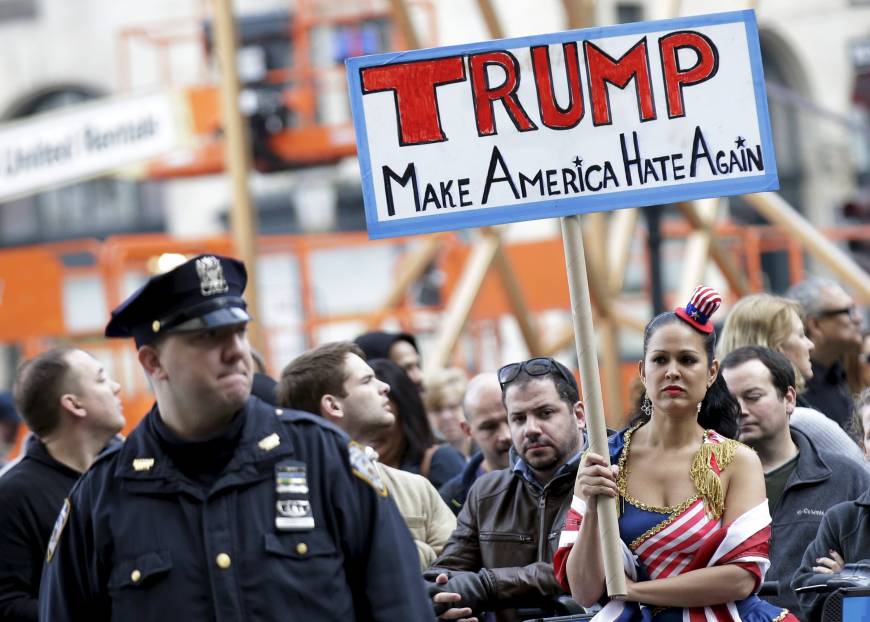 ---
AUSTIN, TEXAS: The Southern Poverty Law Center said in a report released on Wednesday that hate groups in the United States proliferated in 2016 as Donald Trump's bid for the US presidency energised the radical right.

"Trump's run for office electrified the radical right, which saw in him a champion of the idea that America is fundamentally a white man's country," the Southern Poverty Law Center said.

The nonprofit civil rights organisation said in its annual census of hate groups that anti-Muslim groups nearly tripled to 101 in 2016 from 34 in 2015. It said hate groups in the United States numbered 917 last year compared with 892 in 2015.

British man's charity donations frozen by US as his name is 'Islam'

The White House did not respond to a request for comment.

At a news conference with Israeli Prime Minister Benjamin Netanyahu on Wednesday, President Trump was asked to comment on an increase in anti-Semitic incidents in the United States and to respond to those in the US Jewish community, Israel and elsewhere "who believe and feel that your administration is playing with xenophobia and maybe racist tones."

"We are going to do everything within our power to stop long simmering racism and every other thing that's going on," Trump said. "There's a lot of bad things that have been taking place over a long period of time.

"As far as people, Jewish people, so many friends; a daughter who happens to be here right now; a son-in-law, and three beautiful grandchildren. I think that you're going to see a lot different United States of America over the next three, four or eight years. And you're going to see a lot of love."

Austria's far-right Freedom Party calls for ban on 'fascistic Islam'

NUMBER OF HATE GROUPS HIGH

The report, contained in the Spring 2017 issue of the organisation's Intelligence Report, said the number of hate groups in the United States in 2016 was high by historic standards.

Researchers for the Alabama-based organisation said the number of crimes against Muslims had risen with the number of hate groups. They cited as an example the burning of a Texas mosque after the Trump administration issued an executive order suspending travel to the United States from seven Muslim-majority countries.

"2016 was an unprecedented year for hate," said Mark Potok, senior fellow and editor of the Intelligence Report. "The country saw a resurgence of white nationalism that imperils the racial progress we've made, along with the rise of a president whose policies reflect the values of white nationalists," Potok said.

The story behind the viral photo of Muslim and Jewish children protesting Trump

The report said the level of organised hatred in the United States was likely understated by the number of groups since "a growing number of militants operate mainly online and are not formally affiliated with hate groups."

In the past, some groups have criticised the organisation's findings. Conservative online website Breitbart News, formerly run by current Trump strategist Steve Bannon, has accused the Southern Poverty Law Center of "manufacturing hate for fun and profit."

"The radical right in the United States has more of a chance, an opportunity, to directly affect real life national policy at this moment than at any time in at least half a century," Potok told a teleconference after the report was released.
COMMENTS (4)
Comments are moderated and generally will be posted if they are on-topic and not abusive.
For more information, please see our Comments FAQ