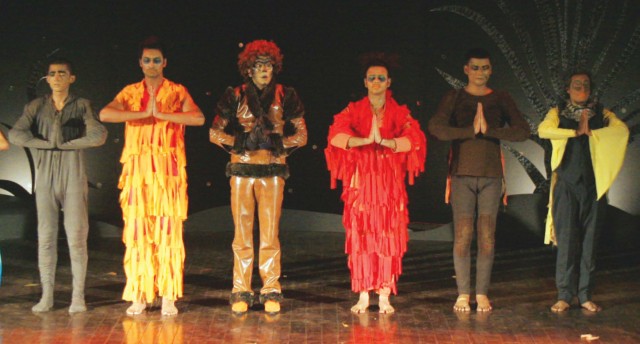 ---
KARACHI: Conversations - a contemporary dance drama and the very first of its kind presented by Joshinder Chaggar - spun a tale of the 'dark side of life' at Karachi's Arts Council on Thursday evening.

Conversations is all about exploring dark realities of life, be it the darker shades of love, marriage, habits and attitudes. It also deals with death and how one reacts to it. The human instincts were camouflaged as the actors took on the roles of members of the animal kingdom. Through body movements of contemporary dance; the performers shared their desire to be free, to love and to cherish life.

In the first act, two birds (brilliantly enacted by Shaan Sheikh and Mohammad Ghani) are busy in a dialogue and strike a conversation about life, using the analogy of a housefly; one moment you are enjoying living this life and the very next moment, you are gone. ("Your entrance and exit takes place by the kitchen window" as one of the birds said). Another bird (played by dancer and choreographer Joshinder Chaggar) delivered a monologue about love, and its bitter reality.

She talks about marriage, "You are trapped, I am trapped, we are both trapped in marriage." She asks for a catalogue from the Maker, demanding to know why was she not created as a product 1145 on page 55? These were mainly arguments which one often ends up having with themselves. One of the highlights of Conversations was Khalid Malik in his role as a cat (with a 'purr-fect' meow), who lent humour to the proceedings.

The birds were all afraid of the dominating cat, and their 'conversation' was thoroughly enjoyed by the children in the audience whose giggles filled up the venue. The earthworms were up next (played by Sunil Shanker and Abdul Aleem Shekhani) and the animal kingdom unites to mourn the death of one of the earthworms while the other sings a mournful ballad.

The make-up by Beenish Parvez was perfect, while the wardrobe was done by designer Fayez Agariah and retail brand Ego. Conversations will be staged at the Arts Council Auditorium until May 16.

Published in the Express Tribune, May 15th, 2010.