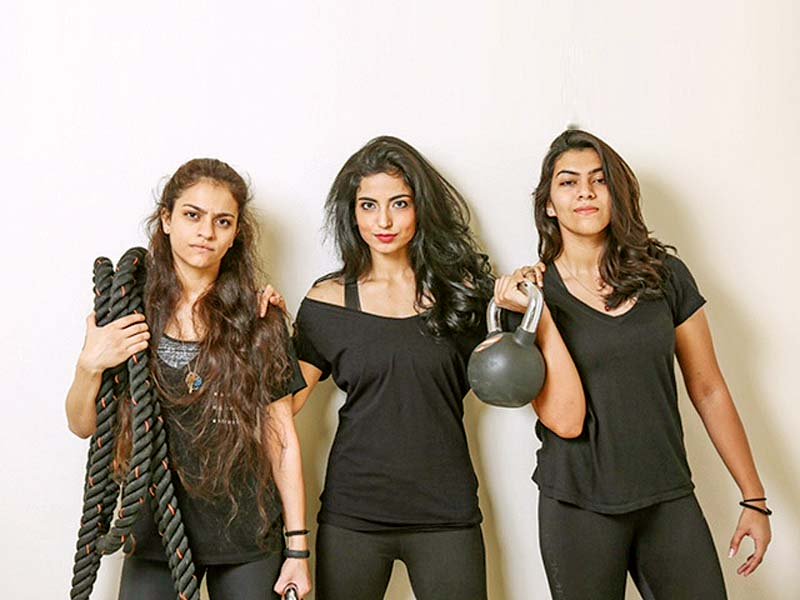 ---
The CEO and Head Trainer at FZM Boutique Fitness, a concept wellness centre providing customised workouts and nutrition solutions to a select clientele, takes us through her eventful schedule. Learn all the health tips you need from this fitness guru!

5am:

Hit the snooze button on my alarm until my mother brings me my double shot of espresso. Once I get my morning caffeine dose, I'm ready to roll. I also drink a litre and a half of water upon waking up. It's been a habit since I was 18, and now I actually feel thirsty in the mornings. Besides, it's a scientifically proven fact that drinking water (hot or cold) first thing in the morning revs up your metabolism by 10 per cent for the entire day!

6am: 

Time for my first personal training client. Celebrities who want to train for upcoming films or projects often request early morning sessions.

7am: 

My trainers arrive and receive their briefings for the day. At FZM Boutique Fitness (FZM), clients never repeat a single workout. As a personal trainer, programs are made for each client and given to the responsible trainer for execution. While I would personally love to train all my clients myself, that isn't always possible. Hence, I have a team of trainers, who have been trained by me for a minimum of eight months before they are hired.




8am: 

Time for my personal training sessions with my international clients over Skype.

10am: 

Now it's time for my 'Signature Morning Boot Camp' at Structure. My boot camps are unique in that each day is a different workout. As of date, I have 25 fitness certifications. I am a Level 2 certified CrossFit Trainer,  trained in Zumba, aqua aerobics, rehab training, kickboxing and piloxing, Pilates, barre, and pre and post-natal fitness. Additionally, I've been a dancer my whole life. My boot camps are therefore based on combining the best of various fitness disciplines.

11am: 

Time to head back home from the gym.

12pm: 

Usually another personal training client. On alternate days, this is when I take an hour to work on calisthenics. Gymnastics has always been my Achilles heel. So three times a week I like to take an hour to work on body-weight movements like handstands, push-ups and pull-ups.

1pm: 

Lunchtime. I've been practicing intermittent fasting for a few years now and I find it fits into my schedule really well. My first meal of the day is around 1pm and my last meal can be at 7pm or 9pm. Intermittent fasting has really helped me improve my body composition. I've gone from 24 per cent body fat to 16 per cent body fat in a relatively short amount of time. However, please read up extensively on the side effects before trying it. No diet fits everyone, and perhaps six small meals a day would work better for you. Fitness and nutrition has to be customised to your needs.

2pm: 

I now review client files and progress with my trainers. This is the time when we make new routines for each client and discuss how to modify each exercise for clients with any injuries.

3pm:

One hour a day is dedicated to my fashion consultations and art history research. While I'm not actively compiling anymore, two of my academic works on Michelangelo and Feminism in Renaissance Art are in the process of publication. Recently, my first book got published titled, Gian Lorenzo Bernini: A Case-study in Authorship; Authenticity; and Attribution. I'm an Art Historian by profession and research is a side hobby.




4pm:

Time for my evening boot camp classes. My 4pm to 6pm classes are my favourite. The crowd is really young and fresh, and all the girls want to lift weights and push their limits!

5pm: 

5pm to 6pm is often Zumba, Bollywood or belly dancing. As a dancer, I create all my choreography myself. Dance is art, and such a fantastic cardiovascular workout!

6pm: 

Finally, I get an hour to myself for my workout. This is my 'me-time.' Exercise is sacred to me because it helps me centre my energy, release my anger and calm my mind. I do heavy weights, CrossFit and a lot of cardio. The more stressed I am, the harder I workout and the heavier I lift. For me, it's not a workout — it's therapy. I don't care about being thin or all that aesthetic nonsense. I just want to be stronger in my mind and body.

7pm:

After a massive endorphin rush (that beautiful post-workout feeling), I head to my next personal training.

8pm:

A giant bowl of homemade yakhni or a BBQ protein fest is my dinner.

9pm: 

Time to make meal plans or update meal plans for FZM clients. Every plan is thoroughly researched and created after a look at the client's medical history. My father is a Pharmaceutical Consultant and a PhD doctor. He often goes over my meal plans, especially if they are for a client with a medical history — cholesterol, insulin resistance, polycystic ovaries syndrome, hormonal imbalances or anything else.

10pm:

This time is also reserved for any celebrity clients or choreography workshops for upcoming films.

11pm:

Now I answer all my emails, manage my social media and plan the next day.

12am:

Bedtime reading is fitness and nutrition research on academic websites. Please don't get your fitness information from commercial fashion magazines! Those often promote fads and quick fixes. Unfortunately, when it comes to weight loss, shortcuts are often the worst thing you can do for your body.

1am:

Passed out…