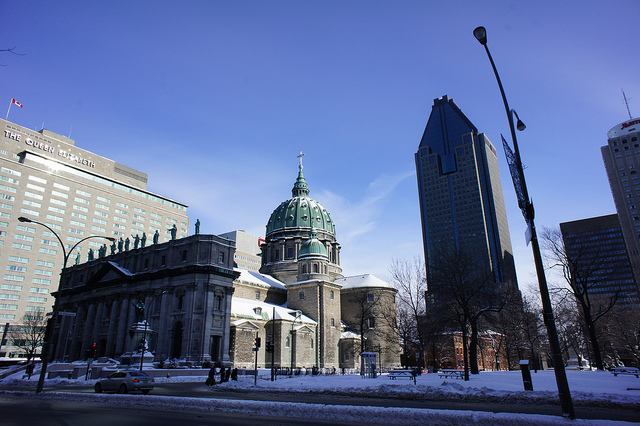 ---
Montreal has ended Paris's five-year run as the best student city in the world, according to global higher education analysts at Quacquarelli Symonds (QS).

The fifth edition of the QS's Best Student Cities ranks the world's top 100 urban student destinations.

No Pakistani cities placed in the top 100, while only two cities from the South Asia region –  Mumbai and New Delhi at 85 and 86, respectively – broke the top 100.

The world's best cities revealed

Multicultural, bilingual, student-centered and inclusive, Montreal performs well in all six categories of the index. Its success is the latest in a series of favourable signs for the city. It was recently selected as the 'World's Most Intelligent City', and there have been positive economic growth forecasts for the city for the year 2017.

Canadian cities have generally done well in the survey with five cities being listed in the top 100.

Other key findings included Paris losing its first place throne as it dropped to second - the city received a reduced rank for Affordability and Desirability.




Despite concerns after Brexit, London rose from fifth place in 2016 to third place in this year's rankings.

London named the best city in the world for quality of life

UK cities still remain excellent study destinations, with rises in QS's Affordability indicator a major contributor - all eight of its ranked cities improved their rank from last year.




US cities have seen a fall due to affordability issues. Boston broke into the top ten, polling in eighth place, while ten of the 12 US cities on the list saw a drop in rank from last year.

10 most beautiful cities in the world

Australia sees seven ranked cities in the top 100, but all of them have dropped ranks from last year, the disadvantage being Australia's high cost of living and tuition fees. Sydney which ranked fourth in 2016, placed 13th this year. Melbourne was the second-best student city last year but dropped three places to rank fifth this year.




Seoul ranked as the best student city in Asia, jumping six places and ranks fourth, while Tokyo placed seventh.

German cities also did well, as Berlin and Munich place sixth and ninth, respectively.

Vancouver came in 10th to round out the top 10.

Published annually, the QS Best Student Cities index showcases the best urban destinations for international students, based on a diverse range of indicators which was previously grouped into five key categories. These categories consisted of university rankings, affordability, student mix, desirability, and employer activity.

The 2017 edition of the QS Best Student Cities added a new category called the 'student view', featuring student opinions of the cities. Over 18,000 students responded to the inaugural survey for this ranking as they provided input about their own student experiences, and, for prospective students, the relative desirability of a city.

Top 10 most visited cities in the world

There was a combination of inputs, including the proportion of respondents that wished to stay in their city of study after graduation, the quality of social and cultural experience offered, and levels of tolerance and inclusion

Based on just the 'Student View' indicator, Ottawa was ranked the leading city, followed closely by Prague and Shanghai.
COMMENTS
Comments are moderated and generally will be posted if they are on-topic and not abusive.
For more information, please see our Comments FAQ